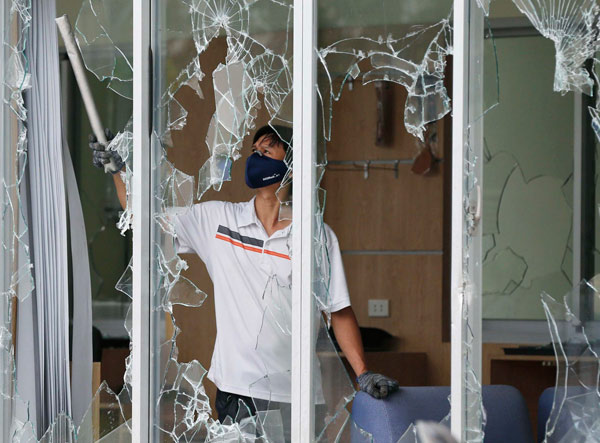 A man repairs broken windows at the office of a Taiwan company attacked during riots in Vietnam's Binh Duong Province on Friday. [Photo/Agencies] 
Vietnam has made an initial payment of more than $7 million in compensation to nearly 140 businesses, including Chinese companies, which came under attack during anti-China riots last month.
At least two Chinese workers died and dozens were injured when protests turned violent in some parts of Vietnam.
Hanoi has pledged to help affected companies recover from the worst unrest in years by offering initiatives such as tax deferments.
In late May Vietnam found two men guilty of inciting the riots, sentencing them to three years and one year in prison. More than 1,000 people were reportedly arrested for participation in the violence.
Relations between Beijing and Hanoi plunged when China's CNOOC Group sent a deep-sea oil rig to waters near Zhongjian Island, which is claimed by Vietnam.
Hanoi sent vessels to ram Chinese ships operating in the waters more than 1,500 times, according to the Chinese Foreign Ministry. A further wave of anti-Chinese riots erupted in the country.