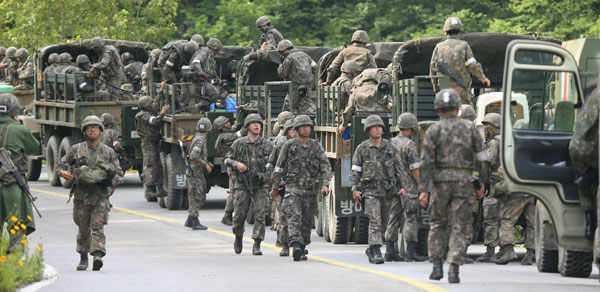 South Korean soldiers get in their military vehicles as they take part in a search and arrest operation near the area of a standoff between troops and a conscript soldier who shot and killed five comrades in Goseong June 23, 2014.[Photo/Agencies]
SEOUL - The fugitive South Korean soldier, who had been at large after killing five comrades in a shooting rampage Saturday night, was set to be captured alive as he is being surrounded by trailing troops, the Defense Ministry said Monday.
Defense Ministry spokesman Kim Min-seok told a press briefing that the runaway Army sergeant, identified only by his surname Lim, has been surrounded by soldiers in an area some 7 km east of the scene where the shooting rampage occurred.
Lim was allowed to talk on the phone with his father at around 8:40 a.m. local time after he had been detected and besieged by troops in search operations 40 minutes earlier.
The spokesman said the military was trying hard to persuade Lim to surrender while seeking to capture him alive by narrowing down the range of the siege.
The South Korean Army sergeant, who was serving sentry at the Demilitarized Zone, fired some 10 random shots with his K-2 rifle against fellow South Korean soldiers at about 8:15 p.m. Saturday.
The firing rampage took place at a general outpost of the 22nd Infantry Division in Goseong, a northeastern town in Gangwon Province bordering the Democratic People's Republic of Korea (DPRK) .
Five soldiers were killed, with seven others wounded right after the shooting accident.
The number of those wounded rose to nine as two more soldiers suffered gunshots. One soldier received a bullet wound Sunday afternoon in a gun battle with the fugitive sergeant.
Another soldier had a bullet wound earlier in the morning on the misconceiving shot between trailing troops. He was taken to a nearby hospital with minor injury.
Among the remaining eight wounded, seven are recovering after the surgery, with one sustaining a serious injury that is not threatening his life, the spokesman said.