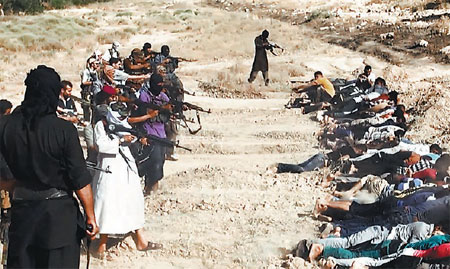 An image uploaded on Saturday on the jihadist website Welayat Salahuddin allegedly shows militants of the Islamic State of Iraq and the Levant executing dozens of captured Iraqi security forces members at an unknown location in the Salaheddin province. Welayat Salahuddin / Agence France-Presse
US, Iran may discuss joint action to halt jihadi group's weeklong offensive
Sunni militants captured a key northern Iraqi town along the highway to Syria early on Monday, compounding the woes of Iraq's Shiite-led government a week after it lost a vast swath of territory to the insurgents in the country's north.
The fall of Tal Afar, with a population of 200,000 people, came as Washington and Teheran mooted a landmark meeting over the crisis in Iraq. Cooperation between Iran and the United States to help prop up the government of Iraqi Prime Minister Nuri al-Maliki would be a major turn of events, bearing in mind hostility dating back to Iran's 1979 revolution, and demonstrates the urgency of the situation.
The assault on the town of Tal Afar was the latest in a weeklong offensive by Sunni militants from the Islamic State of Iraq and the Levant, who are said to have killed scores of Iraqi soldiers as they pushed an advance on the capital. On Monday, UN Secretary-General Ban Ki-moon described reports of summary executions as "deeply disturbing" after images were released showing ISIL militants gunning down dozens of unarmed prisoners.
Fighters have entered and taken control of several neighborhoods of Tal Afar, a Shiite Turkman-majority town in Nineveh province, according to officials and residents on Monday.
Massacres reported
Abdulal Abbas, the local official responsible for the town and surrounding area, said Tal Afar was dealing with "martyrs, wounded, chaos and refugees," and that around 200,000 people - nearly half the area's population - had fled.
The Iraqi government insists it is making progress in retaking territory from militants, who currently hold most or parts of four provinces north of Baghdad. It said on Sunday that security forces had killed 279 militants and that soldiers have recaptured towns north of Baghdad.
As troops begin to push back against militants, evidence of brutal violence against members of the security forces has emerged. The US condemned a massacre in which ISIL militants appear to have killed scores of soldiers around the conflict-hit city of Tikrit, while the burned bodies of 12 policemen were also found in the town of Ishaqi.
Photos posted online were said to show jihadists summarily executing dozens of captured members of the security forces in Salaheddin province, of which Tikrit is the capital, with tweets attributed to ISIL claiming they had killed 1,700 in all.
US-Iran talks
Washington and Teheran have also raised the possibility of direct engagement over the Iraq crisis, with The Wall Street Journal reporting, citing US officials, that the Obama administration may use nuclear talks starting in Vienna on Monday as a venue.
Iranian President Hassan Rouhani surprised observers by saying days earlier that Iran may "think about" cooperating with Washington, with whom it has not had diplomatic relations for more than three decades.
Iran blames the United States and its Gulf Arab allies for stoking Sunni militancy in the region by backing the uprising against its ally Bashar al-Assad in Syria, where ISIL emerged as one of a dominant Sunni rebel groups in a three-year civil war.
Asked if Iran would now work with the US against ISIL, Rouhani told a news conference on Saturday: "We can think about it, if we see America starts confronting the terrorist groups in Iraq or elsewhere.
"Where did ISIL come from? Who is funding this terrorist group? We had warned everyone, including the West, about the danger of backing such a terrorist and reckless group," he said.
AP-AFP-Reuters