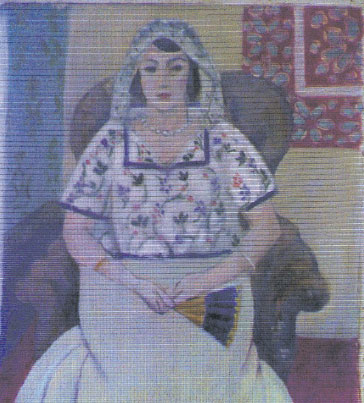 A reproduction of a painting by French painter Henri Matisse titled Seated woman. Christof Stache / Agence France-Presse
Nations aim to return works to Jewish heirs; owner of Matisse painting found
Israel and Germany have agreed to conduct joint research in museums in both countries, the move is aimed at determining the original ownership of Jewish-owned art looted by Nazis, officials said.
Under an agreement signed on Sunday by Israeli Culture Ministry director-general Orly Froman and German Culture Minister Monika Gruetters, art experts from the two countries will undergo training and coordinate the formation of joint data bases.
"The cooperation between German and Israeli institutions on provenance research of Nazi-confiscated art and Judaica is a great vote of confidence," Gruetters said in a statement.
Israeli Culture Minister Limor Livnat said the agreement could lead to restitution of art stolen by Nazis to the Jewish heirs, a statement from her ministry read.
Livnat noted the ongoing cooperation between Israel and Germany on Nazi-era art provenance, including the presence of two Israeli curators in a German committee dealing with the collection found in the Munich flat of Cornelius Gurlitt.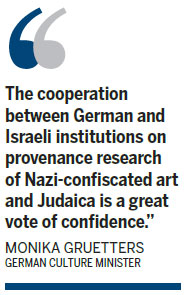 Gurlitt, who died in May at 81, was the son of a Nazi-era art dealer who hoarded hundreds of paintings valued at hundreds of millions of dollars.
Prior to his death he had struck a deal with German authorities to help track down the rightful owners of the 1,280 artworks, including Jews whose property was stolen or extorted under the Third Reich.
In 2011, around 1,500 pieces of art were found in a Munich apartment, including works by masters such as Pablo Picasso, Henri Matisse and Emil Nolde.
The German task force investigating the huge trove of art recovered from the Munich apartment said one of the paintings - Henri Matisse's 1921 Woman Sitting in an Armchair - was looted from Jews by the Nazis and rightly belongs to the descendants of Paris art dealer Paul Rosenberg, The Associated Press reported on Thursday.
The painting depicts a dark-haired woman, seated with a fan in her lap and wearing a necklace and loose headscarf.
"Even if it could not be documented with certainty under what circumstances Hildebrand Gurlitt came into the possession of the work, the task force comes to the conclusion that it is Nazi-looted art from the rightful property of the collection of Paul Rosenberg," said the task force's head, Ingeborg Berggreen-Merkel, in a statement.