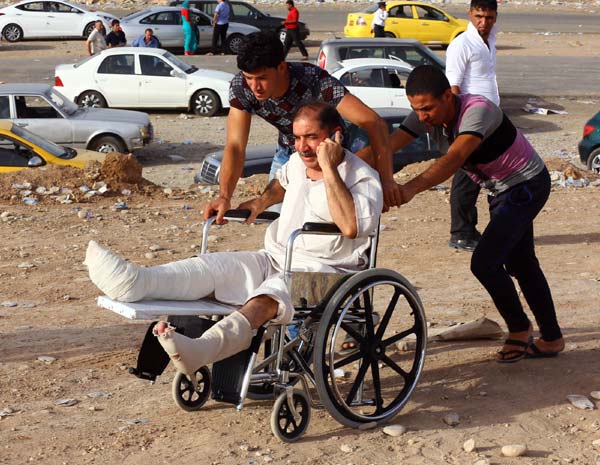 Iraqi refugees from Mosul arrive at Khazir refugee camp outside Irbil, 350 km north of Baghdad, Iraq, on Wednesday. Associated Press

Sunni militants seek to 'settle old scores' with Shiite prime minister
The al-Qaida-inspired group that led the charge in capturing two key Sunni-dominated cities in Iraq this week vowed on Thursday to march on Baghdad, raising fears about the Shiite-led government's ability to slow the jihadi assault.
Fighters from the militant group known as the Islamic State of Iraq and the Levant took former president Saddam Hussein's hometown of Tikrit on Wednesday as soldiers and security forces abandoned their posts and yielded ground once controlled by US troops.
That seizure followed the capture of much of Mosul, Iraq's second-largest city, the previous day. The group and its allies among local tribesmen also hold the city of Fallujah and other pockets of the Sunni-dominated Anbar province to the west of Baghdad.
The Iraqi military also abandoned some posts in the ethnically mixed flashpoint city of Kirkuk that are now being held by the Kurdish security forces known as peshmerga, Halogard Hikmat, a senior peshmerga official told The Associated Press. He said the Kurds moved on Thursday to protect an air base and other sites, but denied reports that the whole city was under peshmerga control.
ISIL's spokesman, Abu Mohammed al-Adnani, also threatened that the group's fighters will take the southern Iraqi Shiite cities of Karbala and Najaf, which hold two of the holiest shrines for Shiite Muslims.
ISIL aims to create an Islamic emirate spanning both sides of the Iraq-Syria border, and has captured large areas of Syria, where it is seeking to overthrow the government of President Bashar al-Assad. It has been able to push deep into parts of the Iraqi Sunni heartland once controlled by US forces because police and military forces melted away after relatively brief clashes.