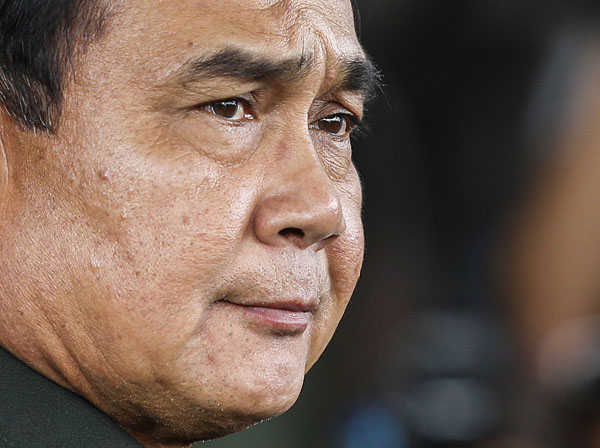 Thai Army chief General Prayuth Chan-ocha arrives before a meeting with high ranking officials at the Army Club after the army declared martial law nationwide to restore order, in Bangkok May 20, 2014. Thailand's military rulers detained former Prime Minister Yingluck Shinawatra on May 23, 2014, a senior officer said, after summoning her for talks a day after the army overthrew her caretaker government in a coup. As the army moved to consolidate its grip on the country, its chief, Prayuth, set out his plans for the country, saying reforms were needed before an election. But some Thais defied martial law to protest against the takeover. Picture taken May 20, 2014. [Photo/Agencies]
BANGKOK - Former Thai Prime Minister Yingluck Shinawatra was in a "safe place" on Saturday after being held by the army following a coup, an aide said, as opposition to the takeover grew among her supporters and pro-democracy activists.
The army moved on Thursday after failing to forge a compromise in a power struggle between Yingluck's populist government and the royalist establishment, which brought months of sometimes violent unrest to Bangkok's streets.
Consolidating its grip, the military dissolved the Senate on Saturday, the only legislative assembly still functioning in Thailand. It also sacked three senior security officials who were seen as close to the ousted government.
The military detained Yingluck on Friday when she and about 150 other people, most of them political associates, were summoned to an army facility in Bangkok.
More people were summoned over the weekend, including some outspoken academics and journalists. The bosses of 18 newspapers and private and public sector economic administrators were also called to meetings with the military.
A senior officer told Reuters Yingluck could be held for up to a week and media reported she had been taken to an army base in Saraburi province north of Bangkok, but an aide denied that.
"Now she's in a safe place...She has not been detained in any military camp. That's all I can say at this moment," said the aide, who declined to be identified.
Thailand's political woes are the latest chapter in a nearly decade-long clash between the Bangkok-based establishment and Thaksin Shinawatra, a former telecommunications tycoon who broke the mould of Thai politics with pro-poor policies that won him huge support and repeated electoral victories.
Thaksin was ousted in a 2006 coup and left the country after a 2008 graft conviction, but he remains Thailand's most influential politician and was the guiding hand behind the government of Yingluck, his sister.
The military also detained Thaksin's adult son, and Yingluck's nephew, Panthongtae Shinawatra, according to posts on social media, which included two photographs of soldiers escorting him through what was said to be the airport in the northern city of Chiang Mai.
Army deputy spokesman Winthai Suvaree told a news conference that anyone being held would not be detained for more than seven days. He did not mention Yingluck.
The military also issued an order to financial institutions to freeze dealings with two former ministers in Yingluck's cabinet who had not responded to a military summons.
The army also said King Bhumibol Adulyadej had acknowledged the military takeover, a significant formality in a country where the monarchy is the most important institution.
An undercurrent of the crisis is anxiety over the issue of royal succession. The king, the world's longest-reigning monarch, is 86 and spent the years from 2009 to 2013 in hospital.
Crown Prince Vajiralongkorn does not command the same devotion as his father, but some Thaksin supporters have recently been making a point of their loyalty to the prince.
"REFORMS BEFORE ELECTION"
Despite international calls for the restoration of democratic government, army chief General Prayuth Chan-ocha has not promised a swift return to civilian rule, insisting there must be broad reforms and stability first.
"We must have economic, social and political reforms before elections," Prayuth told civil servants on Friday in his first comments on his plans since the coup. "If the situation is peaceful, we are ready to return power to the people."
But reforms could take many months and stability could be elusive.
Many countries have issued travel warnings for Thailand.
The United States swiftly condemned the coup and has said it is reviewing its aid to Thailand. The U.S. State Department said on Friday it had suspended about $3.5 million in military aid, including a portion for training.
Human Rights Watch said rights in Thailand were in "free fall".
In what appeared to be a quick move to win over some of Thaksin's core supporters, Prayuth said on Friday paying farmers money owed under a failed subsidy scheme organised by Yingluck's government was a priority.
STIRRINGS OF OPPOSITION
The military has banned gatherings of more than five people, censored the media and imposed a 10 p.m to 5 a.m. curfew, but that has not stopped some from showing their disapproval.
About 200 people gathered outside a mall complex in north Bangkok early on Saturday, holding up handwritten slogans such as "Anti the Coup" and "Get out Dictators".
Police tried to move them on, a Reuters reporter said. The crowd, with young men on motorcycles leading the way, then moved south to the Victory Monument but police lined up across the road to try to block them. There was some pushing and plastic water bottles were thrown.
About 100 people also gathered in a nearby shopping area and some on pedestrian overpasses. Soldiers dispersed the crowd, detaining several people, a Reuters photographer said.
About 200 people gathered for a second day in Chiang Mai, Thaksin's hometown, and there were some scuffles. Soldiers detained five people, a Reuters reporter said.
Such small protests appear spontaneous and leaderless but the real danger for the military would be a sustained mass campaign by Thaksin's "red shirt" loyalists.
Thaksin's supporters in his northern and northeastern heartlands have repeatedly said they would act if another pro-Thaksin government was forced from power unconstitutionally.
Thaksin has not commented publicly since the coup but a resolute, well-financed campaign by his red shirts, whose ranks include armed activists, would be a major test for the military.
The use of force to put down protesters could squander any legitimacy the military leaders may have after saying they took power in the first place to end violence and restore order.
A 2010 crackdown on Thaksin's supporters ended in serious bloodshed and damage to the army's image. Just over a year later a pro-Thaksin government was back in power after Yingluck's sweeping election victory.