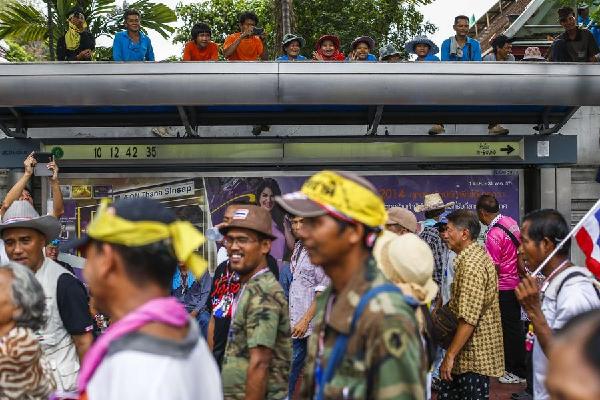 Anti-government protesters and workers participate during a march in central Bangkok May 19, 2014. [Photo/Agencies]
BANGKOK - Thailand was declared under martial law on Tuesday in the face of a looming street chaos in the Thai capital.
Army chief Gen. Prayuth Chan-ocha declared martial rule at 03: 00 am Tuesday with immediate effect throughout the country, but stressed that it was "not a coup."
"Mass gatherings by varied groups of people and recent street violence in which innocent people were killed and injured and property was damaged have shown signs of intensifying into widespread, critical chaos in several areas which might seriously affect national security and public safety," Prayuth said in an ad hoc TV broadcasting Tuesday morning.
He called on the public not to panic while the military will maintain peace and order and bring the situation to normal in prompt fashion.
In his first statement following Prayuth's declaration, caretaker Prime Minister Niwattumrong Boonsongpaisan urged the army to act in accordance with the constitution while enforcing the martial law.
Any actions need to be taken in a peaceful manner, with equality based on rule of law, according to the statement.
The army chief had never consulted or informed the caretaker government about his plan to declare martial law, caretaker Education Minister Chaturon Chaisang said earlier, adding that the move will not be able to end the political unrest.
Given the Martial Act of 1914, the army chief set up the Peace Keeping Command Center (PKCC), which all military forces of the army, navy and air force as well as civilian authorities are obliged to follow, and dissolved the caretaker government's Center for the Administration of Peace and Order (CAPO).
Riot police deployed from 55 companies later withdrew from the CAPO, which was previously in charge of enforcing the Internal Security Act.
The PKCC, with Prayuth as the chief, issued an order to give the military the power to ban all kinds of news media from publishing, distributing or selling reports and images which could affect peace-keeping operations in the country.
The order, which aims at enabling people from all sides to receive correct information, applies to all printed media, as well as television and radio stations.
The PKCC also shut down 10 satellite TV stations and unlicensed community radio stations of the opposing political sides to prevent inaccurate and distorted news from "creating misunderstanding and intensifying conflicts."
The supreme commander and commanders-in-chief of the navy and air force, as well as the national police chief, were appointed as PKCC advisors.
Prayuth also ordered both anti-government protesters and pro- government "red shirts" to stay put in their respective rally sites and called on them to stop demonstrations.
Soldiers have reportedly surrounded "red shirts" demonstrators in the capital's western outskirts and tried to convince them to stop rallying.
"Red shirts" leader Jatuporn Promphan asked demonstrators not to oppose the troops but vowed to continue rallying. He also asked Prayuth to invite conflicting political groups to jointly explore solutions and ensure an election will be held soon to restore democracy.
The anti-government People's Democratic Reform Committee canceled the rally planned for Tuesday. But according to its spokesman Eknat Promphan, protesters will continue to rally for reforms to be implemented before a new election, yet in a way compatible with the martial law provisions.
No untoward incidents have been reported since the wee hours of Tuesday.
The situation in Thailand is uncertain, legal advisor and political analyst Verapat Pariyawong said.
"But at least one thing is very clear. The military has two obvious choices, either to use this opportunity to create a secured and inclusive environment for election and reform under a civilian government, or to push for a pseudo-legitimate process that replaces the caretaking government with transitional guarantees for the traditional elites... The unmasking moment is coming," he commented.