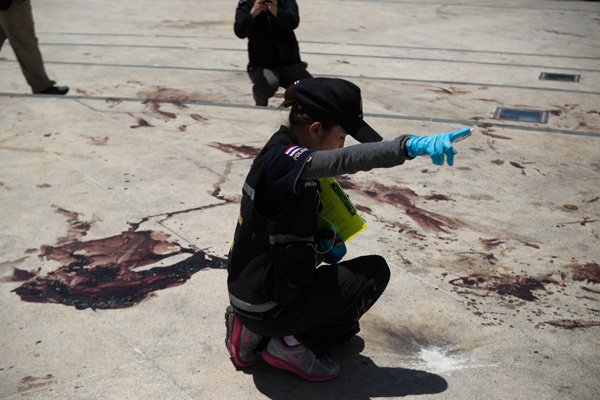 A Thai forensic police officer points in the direction of where gun shots were fired next to a stain of blood at the site of gun attacks at Democracy monument in Bangkok on Thursday. Nicolas Asfouri / Agence France-Presse
Military chief says measures may be taken if violence continues
The chief of Thailand's coup-prone army warned on Thursday his troops "may use force" to quell political violence, after three people were killed in a grenade and gun attack on protesters in Bangkok.
The rare official statement from General Prayut Chan-O-Cha followed a call by Thai election authorities for July polls to be postponed because of the unrest.
"I want to warn every group, especially those who use violence and war weapons against innocent civilians, to stop now because if the violence continues the military may be needed to come out to restore peace and order," Prayut said in unusually strong comments.
He said his troops "may need to use force to resolve the situation," threatening "decisive measures" if civilians are hurt.
Unknown assailants fired two grenades into a rally camp early on Thursday at the Democracy Monument, followed by a burst of gunfire.
Bangkok's Erawan emergency center said three people were killed and 23 wounded.
Thursday's deaths take the toll from six months of protests aimed at toppling the government to 28, with hundreds of others wounded in attacks mostly targeting opposition protesters.
The latest bloodshed comes as demonstrators push for the appointment of an unelected premier in a move that has infuriated government supporters, who last week were dealt a blow after a controversial court ruling ousted Prime Minister Yingluck Shinawatra from office.
Her dismissal by the Constitutional Court has sent tensions soaring in the Southeast Asian nation, which has endured years of political turmoil pitting Yingluck's family against the kingdom's royalist establishment.
The Thai military, which has staged 18 successful or attempted coups since 1932, has been at pains to stay neutral in public during the six-month crisis, despite pressure by anti-government protesters to step-in on their behalf.
Coup-prone military
Observers say the army may be chastened by events of 2010, when it led a crackdown on pro-government "Red Shirts" gathered in Bangkok that left scores dead.
Red Shirt leaders, who are hosting a mass rally on the city's outskirts, have warned of an imminent military coup and the risk of civil war if power is handed to an unelected leader.
Thailand has been cleaved apart by political divisions since Yingluck's older brother Thaksin Shinawatra was ousted in a military coup in 2006 and later fled overseas to avoid jail for corruption.
Anti-government demonstrators stormed a meeting between the government and election officials on Thursday, forcing caretaker Prime Minister Niwattumrong Boonsongpaisan and other ministers to flee.
The bloodied ruling party wants to bolster its authority and is likely to win fresh elections. Parties led by or allied to Thaksin have swept every poll since 2001.
But Election Commission secretary general Puchong Nutrawong told AFP that the July 20 poll "is no longer possible", adding that early August was one option, although polls "cannot be held if protesters do not agree."
An election held in February was later annulled after demonstrators blocked voting in many areas.
Anti-government protesters refuse to back new polls without first implementing vaguely defined reforms, saying the ruling Puea Thai party administration lacks the legitimacy to govern.
Protesters have recently moved to a heavily-fortified area immediately around Government House in the city's historic quarter.
Protest leaders now occupy a wing of the government headquarters, holding press conferences in an attempt to show the government lacks the authority to rule.