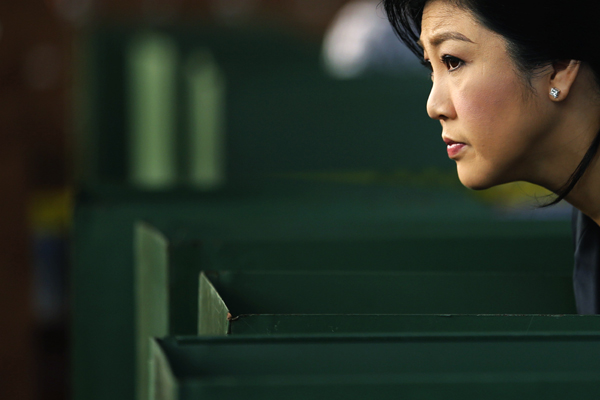 Thailand Prime Minister Yingluck Shinawatra looks from behind a booth as she votes at a polling station in Bangkok in February. Thailand's Constitutional Court dismissed Yingluck and several of her ministers for abuse of power on Wednesday. Damir Sagolj / Reuters
Court rules Thai PM abused power; 9 members of Cabinet also dismissed
Thailand's prime minister was ordered to step down on Wednesday, along with part of her caretaker Cabinet, after the Constitutional Court found her guilty in an abuse-of-power case, pushing the country deeper into political turmoil.
The Cabinet later appointed Niwatthamrong Boonsongpaisan as the caretaker prime minister after the ouster of Yingluck Shinawatra.
Niwatthamrong was earlier the acting deputy prime minister and commerce minister in Yingluck's Cabinet. He used to work as a top executive of Shin Corp, a privately owned conglomerate once owned by the Shinawatra family.
Yingluck was charged with abusing her authority by transferring a senior civil servant in 2011 to another position. The court ruled that the transfer was carried out to benefit her politically powerful family and, therefore, violated the Constitution - an accusation she has denied.
"Transferring government officials must be done in accordance with moral principle," the court said in its ruling, which was read aloud on live television for almost 90 minutes. "Transferring with a hidden agenda is not acceptable."
"The Constitutional Court has ruled unanimously that (Yingluck) has used her status as the prime minister to intervene for her own and others' benefits to (transfer) a government official," which violated Article 268 of the Constitution, and ended her rule as prime minister, the court said in its verdict.
The ruling also forced out nine Cabinet members who the court said were complicit in the transfer of National Security Council chief Thawil Pliensri.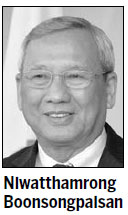 Yingluck denied wrongdoing.
Some legal experts had expected her entire government to be forced out if she was found guilty, but Reuters reported that ministers not implicated in the case can remain in office.
The judgment marks the latest dramatic twist in Thailand's long-running political crisis. It was a victory for Yingluck's opponents, mostly from the urban elite and those in the south, who for the past six months have been engaged in vociferous and sometimes violent street protests demanding that she step down to make way for an interim unelected leader.
The ruling casts doubt on whether elections planned for July will take place, which would anger Yingluck's mostly rural supporters, who have called for a major rally on Saturday in Bangkok. Her ouster will doubtless swell those numbers, and some fear it could lead to more violence. Since November, more than 20 people have been killed and hundreds injured in sporadic gunbattles, drive-by shootings and grenade attacks.
It also remains far from clear whether her opponents will be able to achieve other key demands. These include creating a reform council overseen by a leader of their choice that would carry out various steps to rid the country of corruption and what they claim is money politics.
Yingluck, Thailand's first female prime minister, and her Pheu Thai party swept to power in mid-2011 elections and remain very popular among the country's poor majority, particularly in the north and northeast. But she is despised by Bangkok's middle and upper classes.
The campaign against Yingluck, 46, has been the latest chapter in Thailand's political upheaval, which began when her brother, Thaksin Shinawatra, a polarizing figure, was ousted by a 2006 military coup after protests accusing him of corruption, abuse of power and disrespect for constitutional monarch King Bhumibol Adulyadej.
AP-Reuters-Xinhua