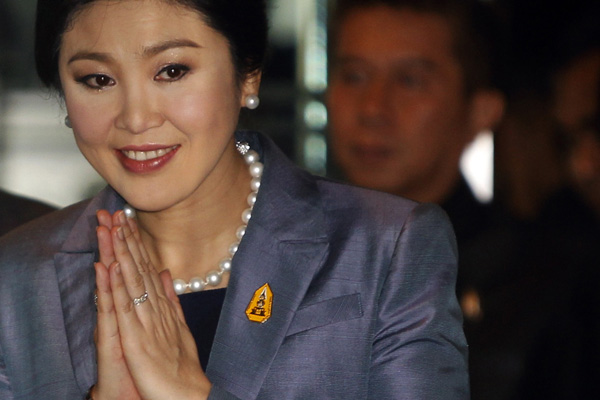 Thailand's Prime Minister Yingluck Shinawatra arrives at the Constitution court in Bangkok May 6, 2014. Yingluck arrived at the Constitutional Court on Tuesday to defend herself against charges of abuse of power, one of two legal challenges that could see her removed from office this month. [Photo/Agencies]
BANGKOK - Thailand's Constitutional Court said on Tuesday it would hand down a ruling on May 7 in an abuse of power case brought against Prime Minister Yingluck Shinawatra that could see her removed from office if found guilty.
"The court makes an appointment to hand down its verdict on May 7 at midday," a judge said after a hearing.
Yingluck faces charges relating to her transfer of National Security Council chief Thawil Pliensri in 2011, which opponents say was done to benefit her party.
Yingluck Shinawatra on Tuesday denied the allegation that she had abused power in a personnel change.
While defending herself in the Constitutional Court, Yingluck said she did not violate any law or receive any benefit by transferring Thawil Pliensri from the post as secretary-general of the National Security Council (NSC) in 2011.
The transfer was ruled unlawful by the Supreme Administrative Court in March, and Thawil has already been reinstated as the NSC chief.  
The verdict could throw Thailand deeper into turmoil after six months of street protests aimed at ousting Yingluck. Her "red shirt" supporters have vowed to respond if she is forced from office and have already arranged a big rally for May 10 near Bangkok.