New vote looms as Thai court voids polls
Thailand's general election held last month was declared invalid on Friday after disruption by opposition protesters, setting the scene for talks about new polls between warring political parties to end months of deadlock.
While the ruling from the Constitutional Court further delays the formation of a new government, it also offers a possible exit from the political stalemate - if the opposition agrees to end its boycott of the ballot box. The country's Election Commission said it planned to propose talks between political party leaders about a new election date.
But Prime Minister Yingluck Shinawatra's supporters fear she will be removed from office before another vote is held.
She has been charged with negligence by the National Anti-Corruption Commission in connection with a rice subsidy scheme, and could face an impeachment vote in the upper house of parliament within weeks.
Shinawatra has faced more than four months of street demonstrations seeking to force her from office and install an unelected "people's council" to oversee political reform.
"Their aim is to put pressure in every possible way to appoint a neutral prime minister," said the chairman of the pro-government "Red Shirts" movement, Jatuporn Prompan.
The backdrop is a years-old struggle between a royalist establishment - supported by the judiciary and the military - and the Shinawatra family, which has traditionally enjoyed strong support in the northern half of Thailand.
Political violence has claimed the lives of 23 people in recent weeks in gun and grenade attacks, mostly targeting protesters.
The kingdom has been deeply polarized since a military coup in 2006 that ousted the prime minister's brother Thaksin Shinawatra, a tycoon-turned-politician who lives in Dubai to avoid prison for a corruption conviction.
The Constitutional Court, set up after the 2006 coup, has a record of ruling against Shinawatra's family and its political allies, and Friday's verdict raised eyebrows among some observers.
"The court has too obviously and too openly appeared to side with the agenda of the anti-government groups," said Thailand-based author and scholar David Streckfuss.
"In doing so, the court has put its reputation and its integrity at risk," he told AFP.
The court ruled 6:3 to nullify the election on the grounds that voting was not held for the entire country on the same day.
Protesters blocked candidate registrations in 28 constituencies, and also caused the closure of about 10 percent of polling stations.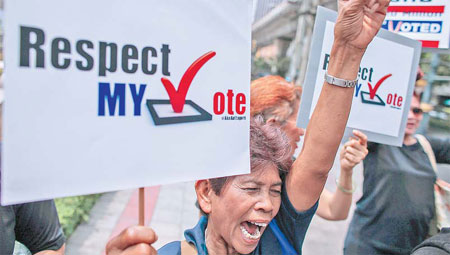 Demonstrators shout slogans demanding their votes to be respected, while protesting against the court's ruling to nullify Thailand's general election held last month, during a rally in central Bangkok on Friday. Athit Perawongmetha / Reuters
(China Daily 03/22/2014 page8)
Today's Top News
Editor's picks
Most Viewed