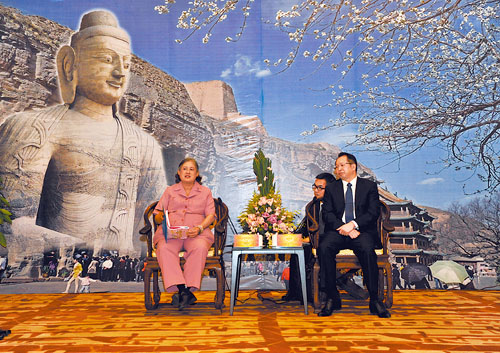 A delegation headed by the Thai Princess Maha Chakri Sirindhorn came to visit Datong, Shanxi province, recently at the invitation of the Chinese government.
During her stay there, Princess Sirindhorn, along with the Thai delegation, was received warmly, and visited various places of interest including the Hanging Temple, the Yungang Grottoes, the Huayan Temple and the East Ancient Citywall.
She also met several senior officials of the Shanxi government, including Wang Yixin, Deputy Governor of Shanxi province, and Li Junming, Mayor of Datong city.
Wang said Shanxi was a promising province with abundant cultural and energy resources. And he hoped that the princess's visit could help deepen mutual exchanges and cooperation between Shanxi and Thailand in culture, tourism, economy and trade.
Li expressed the hope that Datong and Thailand could extend grounds for cooperation, and increase friendly exchanges. He made a point of giving priority to cultural exchanges and the establishment of friendly cities.
It's the second time Princess Sirindhorn has come to Shanxi. In 2000, she visited the ancient city of Pingyao, and the Qiao's Grand Courtyard, as well as the Hanging Temple and the Yungang Grottoes in Datong.
Princess Sirindhorn has contributed greatly to increasing the exchanges and cooperation between China and Thailand, and has been chosen by the Chinese public as one of "The Ten Most Valuable Foreign Friends of China".
Edited by Zhou Yuanyuan and Brian Salter