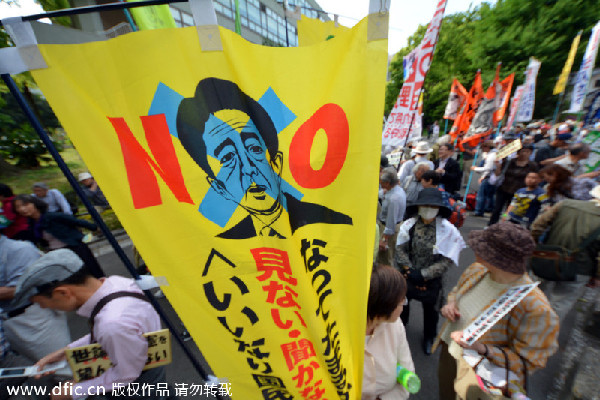 Pro-constitution demonstrators march down the streets of Tokyo following a rally to oppose the growing climate to revise the war-renouncing charter in Tokyo, Japan,May 3, 2014. [Photo/icpress.cn]
TOKYO - Japan marked the 67th anniversary of its postwar constitution Saturday with growing debate over whether to revise the war-renouncing charter in line with Prime Minister Shinzo Abe's push for an expanded role for the Self-Denfense Force (SDF).
The ruling conservative party has long advocated revision but been unable to sway public opinion. Now Abe is proposing that the government reinterpret the constitution to give the SDF more prominence without having to win public approval for the revisions.
His push, backed by the US which wants Japan to bear a greater burden of its own defense, has upset the liberals who see it as undermining the constitution and democratic processes.
Hundreds of people gathered at a Tokyo rally commemorating Constitution Day, a national holiday.
"We citizens must stand up, take action and raise our voice to stop Abe, or this country could return to a Japan that wages war with Asia as it has done before," said protest organizer Ken Takada said.
Written under US direction after World War II, the 1947 constitution says the Japanese people "forever renounce war as a sovereign right of the nation," and that "land, sea and air forces, as well as other war potential, will never be maintained."
That ban has been relaxed over the years with US encouragement as the Cold War unfolded and America sought allies in Asia, allowing Japan to have a military to defend itself, dubbed a Self-Defense Force.
The ruling Liberal Democratic Party has long denounced the postwar constitution as one imposed by the US, which occupied Japan from the end of World War II until 1952. Abe's grandfather and role model Nobusuke Kishi - who was arrested as a suspected war criminal but never charged and later became prime minister - was among vocal opponents of the constitution.
Abe advocates a "breakaway from the postwar regime" as a way to overcome the humiliation as well as the education system, social values and historical views set by the occupation.
A 2012 draft revision proposed by the Liberal Democrats promotes a conformist Japan with traditional patriarchal values, which place family units above individuals and elevate the emperor to a head of state. Civil liberties such as freedom of speech and expression can be restricted if considered harmful to public interest, according to the draft.
"Our goal is to write a new constitution of our own that envisions a new era and serves a new role," Yasuhiro Nakasone, a 96-year-old former prime minister who heads a group of lawmakers campaigning for a revision, said last week at a Tokyo gathering attended by hundreds of lawmakers, supporters and business lobbies.
Amending the constitution requires two-thirds approval in both houses of parliament followed by a referendum. Surveys show mixed opinions to revising the constitution with a growing opposition over what is seen as the Abe government's attempt to force through the change.
Abe and other supporters of the change believe that Japan's current policy is inadequate. They say US warships may come under attack while in or near Japan, or there may be instances in which Japanese troops have to fight during international peacekeeping missions.
To do that, Japan would have to exercise a right known as collective self-defense.
"The lifting of the ban on the collective defense is basically taking any remaining meaning out of Article 9, so in that sense it's really going to be undermining the constitution itself," said Koichi Nakano, a political science professor at Sophia University in Tokyo and an opponent of revision.
But Takeshi Iwaya, a senior lawmaker in charge of the ruling party's defense policy, said: "If we stick to this position, Japan won't be able to secure the necessary deterrence to defend our own national security or keep peace and stability in the region."
An Abe-appointed panel of defense experts is currently finalizing a recommendation to allow collective self-defense, expected in mid-May, which could pave the way for a Cabinet approval.
Related stories:
Obama urges Japan to recognise past honestly
Abe's Yasukuni offering a slap in Obama's face
China refutes Abe's words on 'status quo'
Abe's friends lend him wrong ideas