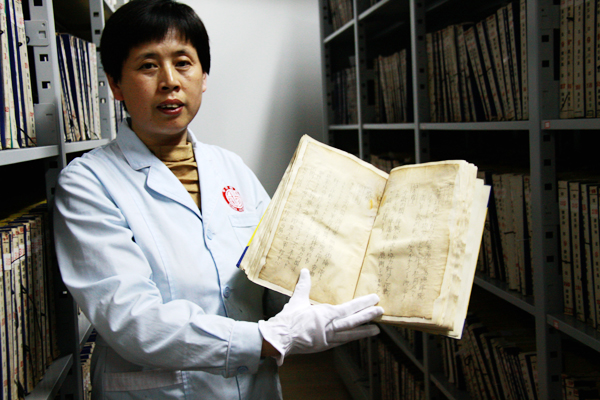 A staff member shows a volume of Japanese files at Jilin Provincial Archives, Changchun, Northeast China's Jilin province, April 22, 2014. [Photo by Song Wei/chinadaily.com.cn]
Documents refute right-wing denials of war crimes, Chinese experts say
Newly deciphered Japanese wartime archives offer fresh evidence of atrocities committed by Japanese troops during the invasion of China.
The Jilin Provincial Archives has released 89 files related to Japan's Kwantung Kempeitai (military police corps) and the then "central bank" of the Japanese-aligned puppet state of Manchukuo.
Experts said the archives are of great historical value, as they refute the denial of war crimes by Japanese right-wingers.
"The Abe administration and Japan's rightists have tried to disown history by glorifying or giving ambivalent definitions of Japan's invasion," said Jiang Lifeng, a research fellow at the Institute of Japanese Studies under the Chinese Academy of Social Sciences. "Now they can find answers to 'what an invasion is' through the documents."
"I was stunned when I visited the Jilin archives two months ago and saw such a colossal volume of files kept in such good order. These files fully expose the atrocities of Japan's militarism," Jiang said.
For example, a report on an investigation into "restoration of public order by Nanjing Kempeitai" by Commander Ooki Sigeru on February 28, 1938, said that the population of Nanjing was about 1 million before December 1937, when the Nanjing Massacre took place.
At least 300,000 Chinese civilians and unarmed soldiers were killed by invading Japanese troops in the massacre.
But some Japanese rightists have tried to deny the massacre by claiming the population in Nanjing before the Japanese occupation was no more than 300,000, Jiang said.
The latest population figure provided by the Japanese wartime commander may cause some of them to cease claiming this, he said.
Another file contains an edition of the Osaka Daily News for Dec 23, 1937, documenting how Japanese troops killed 85,000 people in just three days in Nanjing.
"Dead bodies stretched for 1,000 to 1,500 meters to the lower reaches of the Yangtze River," the report said.
Twenty-five newly released files relate to "comfort women" — sex slaves for Japanese soldiers during the war.
One file records that from November 1944 to March 1945, 532,000 yen ($5,195 at the current exchange rate) was transferred by the "central bank" of Manchukuo for the arrangement of "comfort women" for a military branch, under an account described as "public spending for military use".
Su Zhiliang, director of the "comfort women" research center at Shanghai Normal University, said: "It is an astonishing fact. That was a large amount of money then."
"It once again proves that the sex slavery system was enforced officially, rather than a private commercial operation as claimed by Japan's right-wing politicians."
The archives show in detail how "comfort stations" were operated by the Japanese military from northeastern China, central China and Indonesia.
Wherever there were Japanese troops, there were "comfort stations", Su said.
The documents also suggest that numerous Asian women, including Chinese and Koreans, experienced sexual abuse by the Japanese military.
For example, one Japanese military document shows that the ratio of "comfort women" to Japanese soldiers was 1:178 in Nanjing. In Zhenjiang, a city near Nanjing, the document shows that 8,929 Japanese soldiers visited "comfort stations" in 10 days.
Zhao Yujie, team leader of a research project on the Nanjing Massacre at the Jilin archives, said such statistics show that the "comfort women" system was authorized and carried out systematically by the Japanese military.
Yin Huai, curator of the Jilin Provincial Archives, said it now has nearly 100,000 files of Japanese wartime documents, and 90 percent of them are written in Japanese.
The archives also contain audio recordings of the speeches of Japanese wartime leaders, including prime minister Hideki Tojo, general Yoshijiro Umezu and high-ranking Manchukuo officials.
Zhao Sujuan, 81, a retired archivist from the Jilin archives, said that when Japan surrendered in 1945, Japanese troops buried documents they had no time to burn as they retreated. In the 1950s, the documents were unearthed at a construction site in Changchun, Jilin province.
Since 2012, Jilin Provincial Archives has organized research teams to decipher and translate these documents.
"As the research into the Japanese archives continues, more evidence of Japanese wartime atrocities inflicted on Asia will emerge," Su Zhiliang said.
Song Wei contributed to this story.