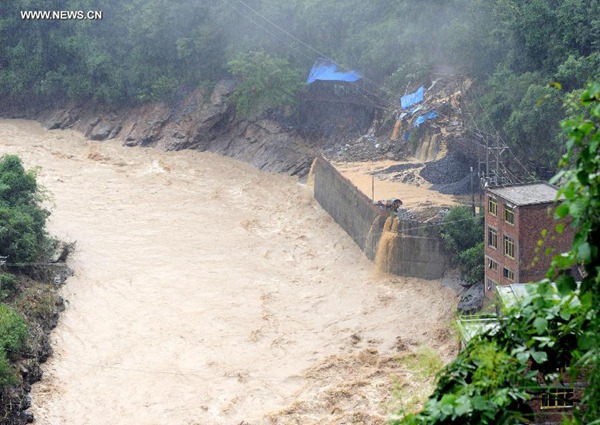 A rain-triggered landslide hit Yongfa coal mine in Jiangkou township, Yunyang county in Southwest China's Chongqing municipality, Sept 1, 2014. Employees with the coal mine encountered the landslide while they were transferring from their dormitory to a safe location after torrential rains started at 8:53 am. Twelve people are still missing after the landslide on Monday. [Photo/Xinhua]
CHONGQING - Eleven people died and 27 others were missing as of 11 a.m. Tuesday after rainstorms brought landslides to southwest China's Chongqing Municipality.
About 898,000 people in 16 counties in the region have been affected and 39,000 have been evacuated from flooded areas, the Ministry of Civil Affairs said in a report.
Direct economic losses total around 710 million yuan (about 115 million U.S. dollars).
More than 500 professional rescuers, including fire-fighters and armed police, have evacuated more than 7,000 residents in nine rain-drenched townships in Yunyang County, said the local rescue headquarters.
The missing include 11 coal miners who were buried by a landslide on Monday morning.
Torrential rain started to pound Yunyang, Wuxi, Fengjie and Wushan in northeastern Chongqing on Sunday, cutting off traffic, power and communication throughout much of the counties.
Rescuers are working to resume traffic on three major roads and a highway to the county seat of Wuxi.
The rainstorms have affected more than 250,000 residents in 32 townships in Wuxi. The county's water authorities said many streets in the county seat have been inundated by flood water as deep as 50 cm.
The National Meteorological Center forecast heavy rain in Chongqing and neighboring Sichuan Province on Tuesday.
The National Disaster Reduction Commission and the Ministry of Civil Affairs issued a grade IV emergency response on Tuesday and dispatched a work group to the disaster zone to help relief efforts.
Grade IV emergency response, the lowest in the country's emergency response system, means a 24-hour alert, daily damage reports, and dispatching money and relief material within 48 hours.