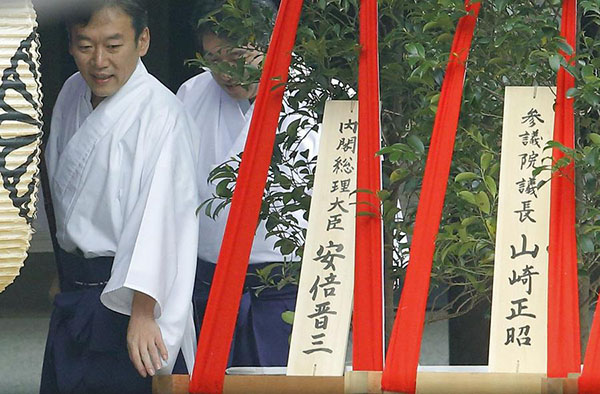 A wooden sign (C) reading "Prime Minister Shinzo Abe" is seen on a ritual offering from the prime minister to Yasukuni Shrine at the shrine in Tokyo in this picture taken by Kyodo April 21, 2014. Abe has sent the ritual offering to the shrine, seen by critics as a symbol of Japan's past militarism, media reported on Monday. [Photo/Agencies]
TOKYO - Japanese Prime Minister Shinzo Abe Monday made an offering to the notorious war-linked Yasukuni Shrine on the first day of its three-day spring festival which began Monday.
The sacrifice came ahead U.S. President Barack Obama's visit to Japan later this week and Abe, in a move to avoid provoking the United States, decided not to worship the shrine during the spring festival.
Abe himself also visited Yasukuni on the first anniversary of the launch of his government on Dec. 26, 2013.
The December shrine visit triggered strong opposition worldwide, including in China and South Korea. The United States, Japan's key ally, also commented that Abe's visit was disappointed and will worsen Japan's relations with its neighboring China and South Korea.
The Yasukuni Shrine honors 14 Japanese leading convicted war criminals during the World War II and is considered as a symbol of Japan's past militarism.
Local reports said that making an offering to the shrine instead of visiting it is widely seen as an attempt by Abe to strike a balance between diplomacy and domestic politics as Abe is strongly supported by Japanese conservatives during his current term.
Chief Cabinet Secretary Yoshihide Suga said here in a press briefing that Abe made the offering as a "private citizen," despite the "Masakaki," the offering, was under the name of "Prime Minister Shinzo Abe."
The top government spokesman did not comment on details of Abe' s offer and said the move will not affect Obama's trip to Tokyo. " There will be no such impact at all," Suga was quoted as say.
Japan's Health, Labor and Welfare Minister Norihisa Tamura and speakers of both chambers of Japanese Diet also made offering to the shrine.
Earlier, Chairman of Japan's National Public Safety Commission Keiji Furuya and Internal Affairs Minister Yoshitaka Shindo paid visit to the shrine respectively on Sunday and on April 12.
Relations between Japan and its neighbors China and South Korea have frayed due not only to territorial disputes, but also to Japan's attitude toward its wartime history, including the Yasukuni issue.
China and South Korea have urged Japan to face up to its past wartime history and maintain a correct attitude toward the history, rather than trying to whitewash its aggression past.
South Korea on Monday denounced Abe's offering and said in a statement by its foreign ministry that Abe's move was an " anachronistic act of hampering friendly ties among neighboring countries and stability in the region."
It said Abe and cabinet members "ignored concerns by neighboring countries and the international community and visited the shrine which glorifies Japan's war of aggression and colonial rule and enshrines war criminals."
Meanwhile, China's Foreign Ministry Spokesman Qin Gang also criticized that Abe's offering and recent ministers' visits to the shrine showed the current Japanese cabinet's wrong attitude toward history and urged Japan again to face up to its past.