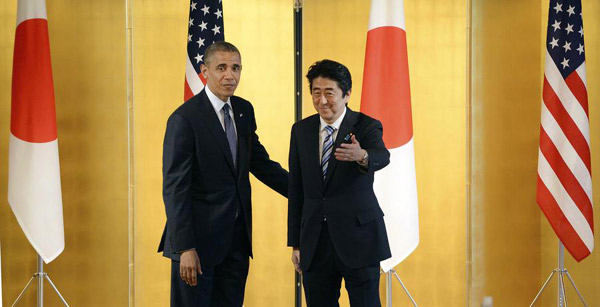 Japan's Prime Minister Shinzo Abe (R) welcomes US President Barack Obama at the Akasaka Palace in Tokyo April 24, 2014. [Photo/Agencies]
Last week US President Barack Obama visited Tokyo and Seoul, the first two legs of his ongoing tour of Asia, which is intended to reaffirm Washington's commitment to the region. His itinerary also includes Malaysia and the Philippines.
In Tokyo, Obama gave a big boost to Japanese Prime Minister Shinzo Abe by unequivocally pledging to claim the disputed Diaoyu islands.
At a joint news conference after the summit, Obama said, "Let me reiterate that our treaty commitment to Japan's security is absolute, and Article 5 covers all territories under Japan's administration, including the Senkaku (Diaoyu) Islands."
Article 5 of the US-Japan Treaty of Mutual Cooperation and Security obliges the US to defend Japan should a third country attack "the territories under the administration of Japan."
It was the first time that a US president explicitly stated that the bilateral security treaty would apply to the disputed islands. An adviser to Abe described it as "the most reassuring statement that the nation has ever heard" from Washington.
Abe was also delighted with Obama's reassurances. So much so that he described the joint statement released one day after the summit as "groundbreaking" for the two countries.
Obama was at first opposed to specifically mentioning Diaoyu islands. He reportedly changed his mind following Russia's forceful annexation of Crimea. Tokyo officials asserted that if Obama stopped short of referring to the disputed islands, it could send the wrong signals to China.
But quite expectedly, China lashed out at Obama's security pledge and denounced the US-Japan alliance as a legacy from the Cold War. The spokesman of the Chinese Foreign Ministry said the alliance should not harm China's territorial rights.
Yet China is unlikely to take Obama's statement seriously. Beijing officials are well aware that it does not signal a shift in Washington's policy as US officials, including State Secretary John Kerry, have reiterated the stance.
In Tokyo, Obama also made Abe happy by welcoming and supporting his move to lift Japan's self-imposed ban on exercising the right of collective self-defence.
Abe says Japan needs to regain the right of collective self-defence to ensure that the Japan-US alliance functions more effectively. He says the ban makes it impossible for Japan to come to the aid of the US when it is under an armed attack by a third country.
But his push for collective self-defence is intended to make Japan a military powerhouse. Abe has already taken measures to beef up Japan's Self-Defence Forces.
Abe says Japan needs a stronger military to be able to contribute to global peace more proactively. But this justification sounds hollow, as his hard-line security policy and revisionist historical perspective have in fact alienated Japan from the rest of the world.
Abe's push for a militarily stronger Japan is cause for grave concern among countries that were victimised by its militarism in the past.
Abe has raised the specter of a militaristic Japan by denying Japan's invasion of Asian countries during World War II and questioning the legitimacy of the Japanese government's official apologies for wartime atrocities.
Washington should not overlook this concern among Asian countries if it seeks to play a leadership role in this region. In this regard, it was regrettable that Obama did not bother to raise the history issue during his summit with Abe.
Last December, the US government openly rebuked Abe for visiting the Yasukuni Shrine in defiance of its repeated warnings. In March, Obama had to play the role of a mediator to bring President Park Geun-hye and Abe together for a trilateral summit in The Hague.
But just a couple of days before Obama's arrival in Tokyo, Japanese lawmakers visited the Yasukuni Shrine en masse, angering South Korea and China. Abe was also criticized for offering a gift to the war memorial.
The Japanese politicians' behavior was absurd, to say the least. In light of Washington's disapproval of Abe's visit in December, they should have refrained from visiting the shrine ahead of the summit.
But Obama did not touch on the issue at the summit. He even allowed Abe to justify his shrine visit during the news conference. Abe said he would continue to explain why he visited the shrine so that people would understand him.
In Seoul, Obama did raise the history issue. At a news conference after a summit with President Park on Friday, he urged Japan to face up to history and address the grievances of the Korean women who had been forced into sexual slavery for Japanese soldiers during World War II.
"This was a terrible, egregious violation of human rights. Those women were violated in ways that even in the midst of war were shocking, and they deserve to be heard, they deserve to be respected," he said.
Obama still did not comment on Abe's visit to the Yasukuni Shrine. Instead, he said that he believed the Japanese prime minister "recognizes, and certainly the Japanese people recognize, that the past is something that has to be recognized, honestly and fairly."
While Obama placed trust in Abe, Park sounded more skeptical when she stressed the need for the Japanese leader to make good on the promises he had made before the trilateral summit in The Hague.
Obama also urged the two neighboring countries to look forward and keep their eye on the future, while trying to find ways to resolve the pain of the past.
South Korea is ready to reset its ties with Japan in a forward-looking manner and promote trilateral cooperation in security issues, only if Japan shows sincerity in resolving the thorny history and territorial issues.
Obama needs to ponder on why Abe is not trusted by countries in this region and beyond. Abe pursues his own vision of Japan. But the problem is that his vision is based on a flawed historical perspective. This is why his initiatives are greeted with suspicion. Unless Abe changes his revisionist perception of history, Japan will be further isolated in the international community. This is not an outcome beneficial to Washington.