"We will solve the world's great mental issues. "We will solve the world's terrorist issues. "We will solve the world's technical issues together. "If we don't do it, all of you are going to be worse off."
The words were blunt and decisive, and they came from William Owens, who delivered them to students in the audience at Columbia University's Alfred Lerner Hall. It was just what you would expect from an ex-admiral used to the mantle of command.
Owens, who also is the New York Stock Exchange's Asia vice-chairman, spoke at the 2014 China Business Conference at Columbia University last Friday. He sharply upbraided the US government and presumably many captains of US industry for their behavior in the Huawei-ZTE affair, defended Huawei and praised Chinese skill and technology in other fields.
Owens - who, as it turned out, preceded Huawei chief US representative Charles Ding on the podium - blamed what he called the US government's unfair treatment of Huawei on mistrust of both China and its companies.
"I object to the way Huawei was treated in the United States because it's unfair," said Owens, who commanded the US Sixth Fleet in 1990 and 1991 during Operation Desert Storm, and is chairman of Hong Kong-based AEA Investors Asia.
He was referring to an October 2012 US congressional report that called Huawei Technologies Co's infrastructure business with major US carriers a threat to national security. The widely covered report by the US House Intelligence Committee panel accused the Shenzhen-based company (as well as fellow Chinese telecommunications supplier ZTE Corp) of stealing intellectual property from US companies, claiming the companies' equipment, when employed by US customers, could become a vehicle for Chinese spying in the US. It warned US carriers against doing business with Huawei and ZTE.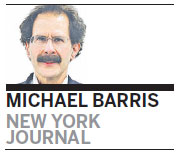 Although the companies rejected the report's claims as unfounded and a White House-ordered review found no concrete evidence to support its espionage allegations, the report ultimately hampered the companies' efforts to establish a US presence and expand in developed markets. Huawei executives said the company would reduce its investment in the US equipment market, although it would focus on selling mobile phones in the US.
"You want to find the best telecoms in the world, you go to Huawei," said Owens, who disclosed a connection to an enterprise that sells Huawei equipment in the US. "I'm unafraid because I know it's the best equipment, and we should be unafraid. If you want the best, you can't find it in companies that are competing with Huawei today. For the good of the American people", he said, "we need Huawei in the United States."
Owens wasn't trying merely to help his own cause, lauding China for its technology in several areas.
"If you look at high speed rail today, is it General Electric or Siemens who provides high speed rail?" he asked. "Not anymore. It's China. China Northern, China Southern are building high speed rail that's being engineered and developed to be the best in the world."
He cited the Commercial Aircraft Corp of China's effort to develop the C919, a narrow-body airliner that he said "will compete with" the (Boeing) 737 and the Airbus 320. He urged the US to get China to switch from buying US Treasuries (and being the US's largest foreign creditor), to investing in rebuilding America's crumbling bridges and highways. "If you invest $1 billion in the US, you create 10 to 20,000 jobs," Owens said. "You invest $20 billion in the US rather than put it into Treasury bills, you create 2 million to 4 million jobs in the US."
"It doesn't mean bringing thousands of Chinese workers to our country," he said. "It means China's big construction firms coming with their knowledge and expertise and engineering to partner with US companies to do this. There are a lot of places in this country that would accept that," Owens said. "A lot of governors, a lot of senators."
In a final stroke, Owens called for merging US and Chinese financial exchanges and setting up a US-China free trade zone (then inviting other nations to join) - proof that while war may be the ultimate competition, the US-China relationship is anything but a contest to this former warrior. "I don't see competition," Owens said. "I see partnership."
Contact the writer at michaelbarris@chinadailyusa.com.
(China Daily USA 04/28/2014 page3)