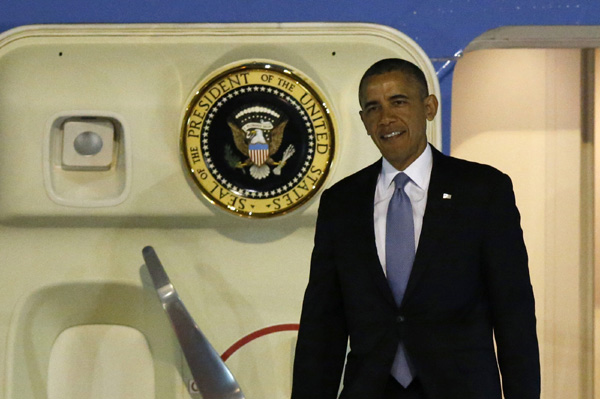 US President Barack Obama steps out from Air Force One as he arrives at Haneda International Airport in Tokyo April 23, 2014. [Photo/Agencies]
BEIJING - President Barack Obama, priding himself on being "America's first Pacific President," starts his four-nation Asia tour in Japan late Wednesday, aiming to consolidate Washington's long-promised engagement with the dynamic Asia-Pacific region.
It will be the first state visit to Japan, one of America's closest allies in Asia, by a US president since 1996 when Japan hosted then US President Bill Clinton. Obama will also visit South Korea, Malaysia and the Philippines.
The Japanese government led by Prime Minister Shinzo Abe has been hoping that Obama will demonstrate during his two-night stay that "Japan-US alliance...is undoubtedly unshakable and firm." But this hope will be hard to satisfy.
A right-tilting Japan, with Abe at the helm, has been busy with whitewashing its wartime aggression against its neighbors, raising severe concerns in China and South Korea.
Meanwhile, Tokyo has also been engaged in intense territorial disputes with Beijing and Seoul.
Thus, on the contrary to Japan's claim that it wants to be a constructive partner for the United States in upholding peace and stability in the Asia-Pacific, the rapidly right-leaning country has actually become a strategic liability for Washington.