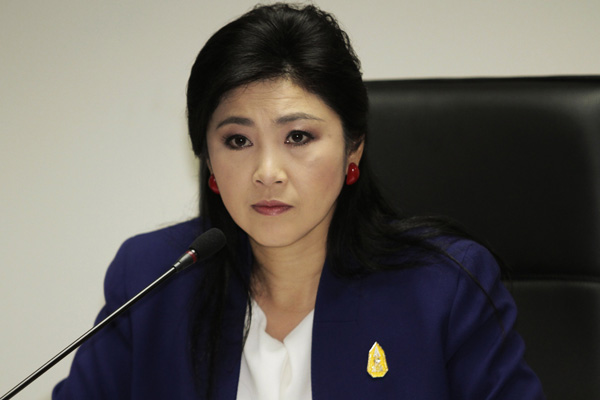 Prime Minister Yingluck Shinawatra attends her cabinet economic meeting at the office of the Permanent Secretary of Defense in Bangkok April 21, 2014. [Photo/Agencies]
BANGKOK - Thailand's Constitutional Court on Wednesday gave Prime Minister Yingluck Shinawatra until early May to defend herself against charges of abuse of power, as the central bank warned that the political crisis threatened another cut in its growth forecast.
The charges relate to the transfer of National Security Council chief Thawil Pliensri in 2011, which opponents say was designed to benefit her Puea Thai Party. If found guilty, Yingluck could be forced to step down and some legal experts say the whole government would have to go with her.
Yingluck, who heads a caretaker government with limited powers, has been undermined by six months of street protests aimed at toppling her government as well as various legal challenges against her, which have intensified since February.
The central bank has slashed its economic growth forecast for 2014 because the unrest has hit tourism and business confidence, and it said on Wednesday growth would probably be even lower than its latest estimate of 2.7 percent.
Last October, just before the protests flared up, the Bank of Thailand (BOT) had forecast 4.8 percent growth.
Even so, its monetary policy committee left interest rates unchanged at a policy meeting on Wednesday, wanting to see the impact of quarter-point cuts in November and March that took the benchmark rate down to 2.0 percent.
"The BOT's decision to stay on hold doesn't come as a surprise to us and there is only so much that further rate cuts can do to support the economy when the main drag is coming from a slide in consumer confidence and business sentiment," said Benjamin Shatil, an economist at JP Morgan in Singapore.
Gundy Cahyadi, an economist with DBS Bank in Singapore, said export growth was still providing some support, but the question was for how long. "One wonders if we can continue to have business as usual without a functioning government in place."