Official Danish visits to China
Danish Prime Minister Helle Thorning-Schmidt visited China from September 10-13, 2012. She held meetings with then-premier Wen Jiabao and also attended the World Economic Forum's Annual Meeting of the New Giants 2012 in Tianjin and spoke at the Sino-Danish Center for Education and Research in Beijing.
The year was an especially significant one in bilateral relations between Denmark and China and also saw 11 other ministerial visits, such as those by the minister of foreign affairs, minister for business and growth and minister for food, agriculture and fisheries.
China's economic opening to the outside world at the end of the 1970s also marked an increase in official visits by Danish ministers to China. Prior to 2012 a large number of ministers and members of parliament had already visited China.
Then-prime minister Lars Løkke Rasmussen visited in 2010, Anders Fogh Rasmussen in 2004 and 2008, Poul Nyrup Rasmussen in 2000, Poul Schlüter in 1986 and Anker Jørgensen in 1981.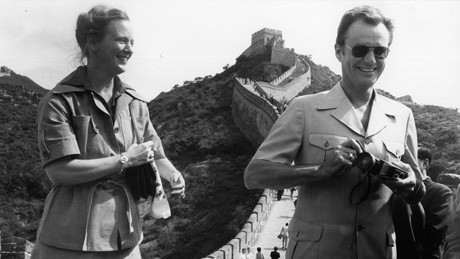 In 1979, Queen Margrethe II made a state visit to China. [Photo courtesy of the Danish Monarchy via cn.kongehuset.dk]
Danish Queen Margrethe II made a state visit to China in 1979, becoming the first western monarch to visit the country.
In 1975, a Danish delegation visited and signed the first trade agreement between Denmark and China. In the following 20 years the countries had a moderate but steadily increasing level of trade.
In 1974, Denmark's then-prime minister Poul Hartling was invited on an official visit to the People's Republic of China where he had meetings with then-leader Mao Zedong, then-premier Zhou Enlai and then-vice-premier Deng Xiaoping.
In 1973, Denmark's foreign minister at the time, K. B. Andersen, made an official visit to China where he met then-premier Zhou Enlai.
Denmark held a large industry exhibition in Beijing in 1967 and in 1972 a Danish industry exhibition was opened by then-Danish minister of industry Erling Jensen.