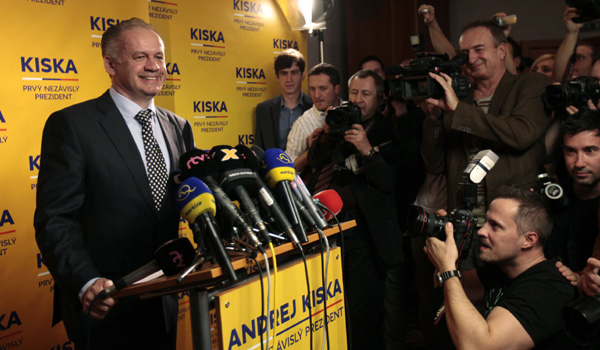 Slovakia's presidential candidate Andrej Kiska smiles during a news conference at his party headquarters after the first unofficial results showed he won the presidential run-off elections in Bratislava March 29, 2014. [Photo/Agencies]
BRATISLAVA - Andrej Kiska won Slovak presidential runoff Sunday and his rival, sitting Prime Minister Robert Fico, has conceded defeat.
Kiska, 51, garnered 59.38 percent of the votes and Fico got 40.61 percent, said the country's Statistics Office early Sunday based on counting 100 percent of the ballots.
The official results will be announced on Sunday after being confirmed by the Central Election Commission.
In a victory speech at his campaign headquarters in the capital Bratislava, Kiska, a former businessman and philanthropist, said "I want to reestablish the people's trust into the presidential office,"
Fico has conceded defeat and congratulated Kiska. The turnout in the runoff was 50.48 percent, higher than the 43.4 percent in the first round on March 15.
Kiska will take office on June 15 as the tenure of incumbent President Ivan Gasparovic expires.
It was the fourth direct presidential election in Slovakia's history.