A little-known short story by US writer Tennessee Williams has been published in a mystery fiction magazine after lying hidden for decades in a literary archive.
Crazy Night is a work of short fiction unseen by the general public until its publication on Tuesday in the spring issue of The Strand Magazine, a quarterly based in Birmingham, Michigan.
In writing the story, Williams drew upon a college girlfriend - if only in name - to tell a story of desire, drunkenness and regret. In later years, he would use his mother as the model for Blanche DuBois in his play A Streetcar Named Desire and his sister as the inspiration for Laura Wingfield in The Glass Menagerie.
The newly discovered story is narrated by a college freshman who confides about his romance with a senior called Anna Jean. While attending the University of Missouri at Columbia, Williams briefly dated fellow student Anna Jean O'Donnell and wrote poetry about her.
"It seems to have been written when Williams was rather young, probably around the 1930s," said Strand managing editor Andrew Gulli, who has previously unearthed works by Mark Twain, Joseph Heller and Robert Louis Stevenson.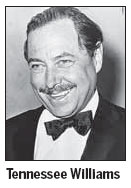 "The funny thing is that Williams in his notebooks and memoirs went into a lot of detail about his love affairs, but with Anna Jean he made only a passing mention. Could this be the missing piece of the puzzle?"
Gulli found the story in the University of Texas at Austin's Harry Ransom Center, one of the country's top literary archives.
Crazy Night is set on an unnamed campus in the early 1930s, after the stock market crash of October 1929 and before the 1933 repeal of Prohibition, when "students graduating or flunking out of college had practically every reason for getting drunk and little or nothing that was fit to drink". The title refers to a ritual at the end of spring term during which students are expected to binge on alcohol and sex, an occasion that is "feverishly gay" on the surface but "really the saddest night of the year".
Williams' language in Crazy Night is sensual and romantic, with the kind of dramatic turns of phrase that Blanche DuBois might have used, whether referring to a "black cloud of incipient terror" in the narrator's mind or savoring the night air that "came in cool and sweet, faintly scented with a flowering vine".
"There is a theme of disappointment, the old 'mendacity theme' from Cat on a Hot Tin Roof," Gulli said.
"He could show how beneath the cloak of respectability his characters had horrible insecurities and dark secrets. Williams was a master of showing the desperation and need humans have for companionship and was equally skilled at showing how relationships go sour and lead to cynicism."