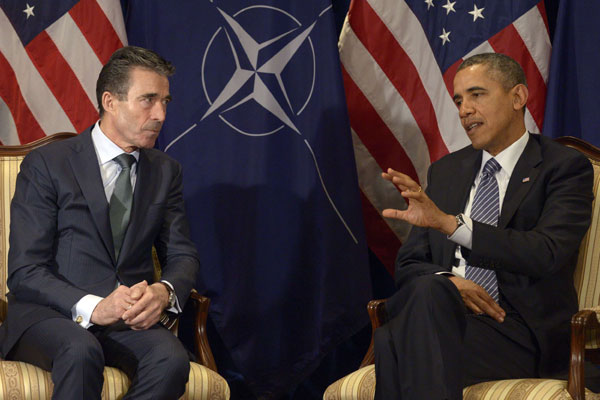 US President Barrack Obama (R) delivers a statement next to NATO Secretary-General Anders Fogh Rasmussen in Brussels March 26, 2014. [Photo/Agencies]
BRUSSELS -- NATO Secretary General Anders Fogh Rasmussen said Wednesday that he will join in the call of US President Barack Obama for additional measures to enhance collective defense.
Rasmussen made the remarks after meeting with Obama, who is paying a visit to Belgium, saying their collective defense includes updated and further developed defense plans, enhanced exercises, and appropriate deployments.
"Our commitment to the defence of our Allies is unbreakable and at the same time we are firm in our support of Ukraine's sovereignty and territorial integrity," Rasmussen said.
While Obama voiced his concerns at a press conference after EU-US summit meeting the day earlier that some NATO allies are reducing their military budgets.
"The situation in Ukraine reminds us that our freedom isn't free, and we've got to be willing to pay for the assets, the personnel, the training that's required," he said.
In addition, he says there are no immediate plans for a NATO expansion. Ukraine is not a NATO member.