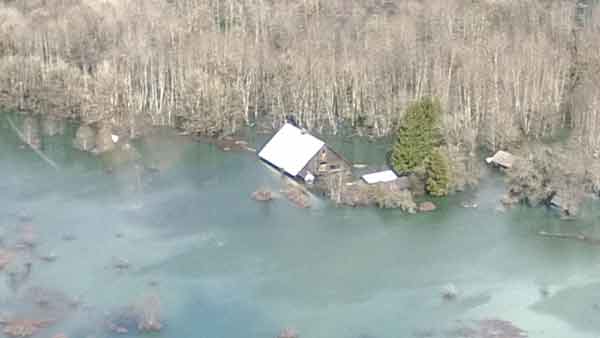 An aerial view of the area affected by a landslide near State Route 530 is seen in this handout photo provided by the Governor Jay Inslee's office taken near Oso, Washington March 23, 2014. [Photo/Agencies]
Searchers in the United States found five more bodies on Sunday in the sludge of a massive landslide in the northwestern state of Washington, bringing the death toll to at least eight.
The victims were killed by a wall of mud and debris that swept through a small riverside neighborhood on Saturday morning.
Four more bodies were discovered late on Sunday, said Snohomish County sheriff's Lieutenant Rob Palmer. Earlier in the day, authorities said one body had been found on the debris field. Three people were already confirmed dead on Saturday.
More people remained missing, and authorities said the number was "fluid". Earlier on Sunday, they said it was at least 18, but that count came before additional bodies were discovered.
Several people were also critically injured and about 30 homes destroyed in the mudslide about 88 kilometers north of Seattle.
Rescue crews were able to get out to the muddy, tree-strewn area after geologists flew over in a helicopter and determined it was safe enough for emergency responders and technical rescue personnel to search for possible survivors, Snohomish County Fire District 21 Chief Travis Hots said on Sunday evening.
"We didn't see or hear any signs of life out there today," he said, adding that they did not search the entire debris field, only drier areas safe to traverse.
Despite that, Hots said, "crews were still in a search and rescue mode. It has not gone to a recovery mode at this time".
Searchers continued looking into the night on Sunday.
Rescuers' hopes of finding more survivors had been buoyed late on Saturday when they heard people yelling for help from within the debris field, but they were unable to reach anyone. The mud was so thick and deep that searchers had to turn back.
The slide wiped through what neighbors described as a former fishing village of small homes - some nearly 100 years old.
Some of the missing may have been able to get out on their own, authorities said. The number of people unaccounted for could change because some may have been in cars and on roads when the slide hit, Hots said.
Officials described the mudslide as "a big wall of mud and debris" that stood about 18 meters deep in some places.
Authorities believe the slide was caused by ground made unstable by recent heavy rainfall.
Shari Ireton, a spokeswoman for the Snohomish County sheriff's office, said on Sunday that eight people were injured in the slide.
A 6-month-old boy and an 81-year-old man remained in critical condition on Sunday morning at Harborview Medical Center in Seattle. Hospital spokeswoman Susan Gregg said two men, ages 37 and 58, were in serious condition, and a 25-year-old woman's condition was upgraded to satisfactory.
"It sounded like a freight train," landslide witness Dan Young told Komo4News. "In just 35 to 45 seconds it was over." Young's home survived but is flooded.
"It's much worse than everyone's been saying," a firefighter who did not want to be named told The Seattle Times. "The slide is about a mile wide. Entire neighborhoods are just gone. When the slide hit the (Stillaguamish) river, it was like a tsunami."
AP-AFP