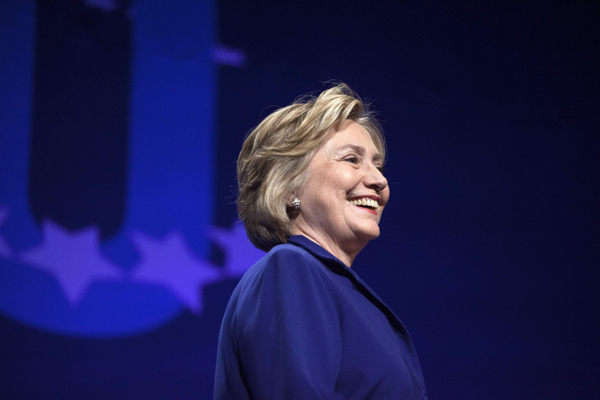 Former Secretary of State Hillary Clinton welcomes more than 1,000 College Students Leaders for the 2014 Meeting of the Clinton Global Initiative University at Arizona State University in Tempe, Arizona, March 21, 2014. [Photo/Agencies]
WASHINGTON - Americans say the biggest reason about a possible Hillary Clinton presidency would be her serving as the first female US president, according to a Gallup poll released Friday.
Asked what the best thing about the former secretary of state being elected president would be, nearly one in five respondents mention this historic possibility, including 22 percent of women, 27 percent of 18- to 29-year-olds, and 30 percent of Democrats, Gallup said.
That total was double the next answer, which was her experience and foreign policy expertise.
In the third place, with 8 percent, was that she would be a change from the Obama administration.
Americans' views of the possible negatives that would be associated with a Hillary Clinton presidency are more diverse than the positive responses. No one single issue dominates to the degree that her being the first woman president does on the plus side, the poll found.
Two percent of Americans, including 4 percent of Republicans, specifically mention Clinton's handling of the Benghazi, Libya, incident that occurred while she was secretary of state, an incident in which the US ambassador and three other Americans were killed.
A number of Americans say the most negative thing about a Clinton presidency would be that she is a Democrat and would continue Obama's Democratic policies and agenda, according to Gallup.
Fifty-nine percent of Democrats do not name anything or answer "nothing" in response to the question about negatives associated with a Clinton presidency, while 72 percent of Republicans do the same when asked to name the most positive thing about a Clinton presidency, the survey found.
Independents are generally close to the sample average in terms of their giving an opinion on both questions -- 54 percent did not have a response or said nothing for the positive outcomes and 48 percent for the negative outcomes, Gallup found.
Still, all three partisan groups who do offer a response mention the fact that she would be the first woman president, albeit in significantly different percentages. Democrats are the most effusive in their responses, and talk in significant numbers about her experience and that she would further the Democratic agenda, Gallup said.
Gallup surveyed 1,024 adults from March 15 to 16 for the poll, which has an error margin of plus or minus 4 percent points.