200 activists force officers at Ukrainian base to barricade themselves in building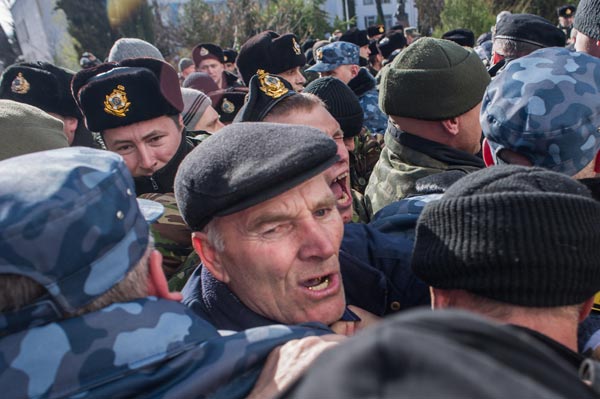 Pro-Russian self-defense forces are involved in scuffles as they try to enter the Ukrainian Navy headquarters in Sevastopol, Crimea, on Wednesday. [Photo/Agencies]
Pro-Russian forces took over part of Ukraine's naval headquarters in Crimea without armed resistance on Wednesday as Moscow moved to take control of military facilities on the Black Sea peninsula.
Chinese observers dismissed the possibility of a large-scale military conflict, although Ukraine said its forces would not withdraw from Crimea.
A Ukrainian navy spokesman said about 200 activists forced a group of officers at the Ukrainian naval headquarters in the port of Sevastopol to barricade themselves inside the building to avoid a direct confrontation.
"They are unarmed, and no shots have been fired from our side," said spokesman Sergiy Bogdanov.
The commander of the Russian Black Sea fleet was seen arriving at the base for talks.
Shortly after the incident, Ukraine's acting Defense Minister Ihor Tenyukh said the country's forces would not withdraw from Crimea. There are more than 20,000 Ukrainian troops remaining there.
But an hour later, Ukrainian servicemen, unarmed and in civilian clothing, began walking out of the headquarters.
The Interfax-Ukraine news agency said the commander of the Ukrainian navy, Admiral Serhiy Haiduk, was among those who left and was driven away by officers of Russia's FSB intelligence service. The report could not be independently confirmed.
Crimea has been the warm-water outlet for Russian navies since the 18th century. The incident came a day after Moscow signed a treaty annexing Crimea.
Wu Dahui, a Tsinghua University expert on Russian studies, said: "The status of Crimea has changed since Tuesday. Russia has observed self-restraint in past weeks, but now it has more reasons to establish order, which Moscow believes is normal, through hard-line moves and driving Ukrainian troops away."
Thousands of Russian-backed forces had arrived in Crimea in the buildup to Sunday's referendum, in which Russian-majority Crimea voted overwhelmingly to leave Ukraine and join Russia.
The troops reportedly seized some Ukrainian military bases, blockaded others and pressured Ukrainian soldiers to surrender their arms and leave.
Gao Fei, a professor of diplomacy studies at China Foreign Affairs University, said there will be no large-scale military confrontation.
"From the very start, the West has dismissed possibilities of armed intervention in the Crimean issue", Gao said, adding that Western support of Ukraine has been "symbolic".
"Large-scale confrontation will occur only if dominoes fall down in other parts of Ukraine," Gao added.
However, Wu from Tsinghua University warned of possible conflicts between Russia and Ukraine.
"Many people in western Ukraine are urging the authorities to send troops to Crimea, while Ukraine is mobilizing its armed forces. It is possible that Kiev will be unable to resist pressure from the West to dispatch troops," Wu said.
Wu said although Kiev has asked its troops left in Crimea to resist Russia, it is likely that most of them will surrender their weapons.
"But if some soldiers fight back, conflict cannot be avoided," he said, adding that this is a situation Moscow does not want to see.
Violence broke out hours after Russian President Vladimir Putin signed the Crimea treaty.
Gunmen wearing masks but no military insignia stormed a Ukrainian military center in Simferopol on Tuesday. A Ukrainian serviceman and a member of a self-defense brigade were killed.
In Beijing, Chinese Foreign Ministry spokesman Hong Lei, commenting on the treaty between Russia and Crimea, said on Wednesday, "China always respects all countries' sovereignty and territorial integrity."
Hong said China has all along upheld objectiveness and fairness on the issue.
"As we all know, due to the complex historical and practical factors, we should take everything into consideration when dealing with the Crimea issue," he added.
Kazakhstan's Foreign Minister Erlan Idrisov said at a seminar in Beijing that Russia's annexation of Crimea "has become a fact".
"We believe the Crimea referendum is the way and result of Crimean people freely expressing their wishes," he said.
However, the door to solving the Ukrainian crisis through negotiations remains open, he added.
"Kazakhstan hopes some powers can really stand out and push for stability in Ukraine," he said, suggesting that the United Nations take a leading role.
AFP, AP, Reuters and Ren Qi contributed to this story.