This week's trip by the US first lady Michelle Obama to China will help improve bilateral relations between the two nations, according to senior White House officials.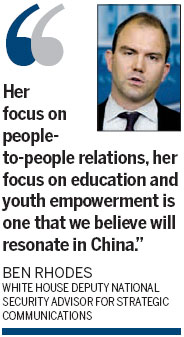 "Her visit and her agenda send a message that the relationship between the United States and China is not just between leaders, it's a relationship between peoples," Ben Rhodes, the White House deputy national security adviser for strategic communications, told a conference call on Monday.
Rhodes described that as critically important, given the roles that the two countries are going to play in the 21st century.
"Her focus on people-to-people relations, her focus on education and youth empowerment is one that we believe will resonate in China," Rhodes said.
Rhodes believes a significant benefit of the trip is that it can improve the US-China relationship.
"And we believe that she has proven very capable at doing exactly that in her previous travel, both with the president and independent of the president," he said.
From March 19 to 26, the first lady will visit Beijing, Xi'an and Chengdu with her two daughters, Malia and Sasha, and her mother Marian Robinson.
In Beijing, Mrs Obama will meet President Xi Jinping's wife Peng Liyuan, who came to the US last June with her husband during his meeting with President Barack Obama at the Sunnylands estate in Rio Mirage, California.
While they didn't get a chance to meet because Mrs Obama had to stay in Washington, Peng will accompany her in Beijing to visit a high school, tour the Forbidden City and attend a private dinner and private performance.
Tina Tchen, chief of staff to the US first lady, said she thinks Mrs Obama is very much looking forward to meeting Peng.
In Beijing, Mrs Obama will also speak at the Stanford Center at Peking University, where she will meet with Chinese and American students who have studied in each other's countries. "(This will) speak to how studying abroad and how technology can be a powerful tool for cultural exchange," Tchen said.