Updates:
An overwhelming 96.6 percent of Crimean voters chosen to join Russia in the Sunday's referendum on the status of the Ukraine's autonomous republic, according to the latest official results.
Crimea referendum commission said only 2.55 percent of voters chose to stay with Ukraine but with greater autonomy. Crimea has a population of around 2 million.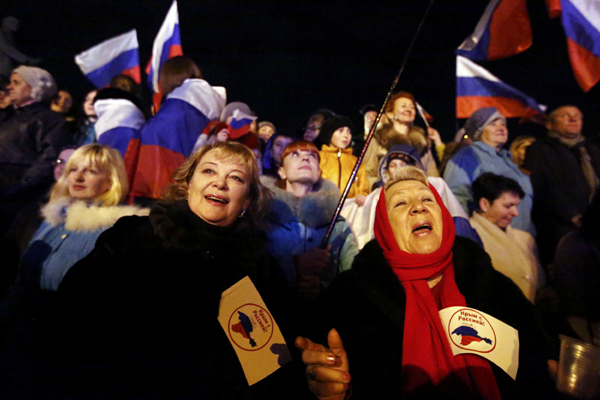 Two women hold flags reading "Crimea is with Russia" as people wait for the announcement of preliminary results of today's referendum on Lenin Square in the Crimean capital of Simferopol March 16, 2014. [Photo/Agencies]
SIMFEROPOL -- By halfway tally, Sunday's Crimea referendum has polled 95.5 percent of approval for reunification with Russia, 3.5 percent in favor of staying with
Ukraine
with increased autonomy, according to official sources.
Mikhail Malyshev, chairman of the commission preparing and holding the All-Crimea Referendum in the Autonomous Republic of Crimea, told the press that with 50 percent of votes already tallied, 95.5 percent are in favor of joining Russia, 3.5 percent want to stay with Ukraine and the remaining 1 percent of votes were invalid.
Earlier, Malyshev told the press that the final turnout rate for the 2014 referendum was 82.71 percent.
The 2014 referendum was conducted on Sunday from 0800 to 2000 local time, with 1,205 polling stations collecting votes cast by some 1.52 million registered voters.
An exit poll, commissioned by the Kryminform news service and conducted by the Crimean Republic Institute for Political and Social Studies, found 93 percent of voters in favor of reunifying with Russia and 7 percent prefer to stay with Ukraine on condition that the 1992 Crimean constitution be restored for greater autonomy.
Final results of the 12-hour plebiscite are expected to come out overnight, with a possible official announcement some time on Monday.
Crimeans in Simferopol and Sevastopol were seen already waiting for celebrations of the referendum outcome.
Most, when asked, expressed their confidence that this third referendum in the history of the peninsula would direct them "home " to Russia.
The peninsula, historically part of the Russian Federation, was transferred to Ukraine in May 1954, then a republic of the Soviet Union.
In 1992, the Crimean Supreme Council (parliament) declared independence in May pending a referendum which was called off by the Ukrainian authorities.
Crimea held two other referendums in 1991 and 1994, testing voters' preference for greater autonomy within Ukraine or uniting with Russia.
The same supreme council decided on March 6 this year to hold the peninsula's third referendum which was originally scheduled for March 30 after the Ukrainian authorities decided to annul Russian as the official language in the peninsula.
The Crimean Supreme Council passed a resolution of declaration of independence on March 11 to pave the way for Sunday's referendum.