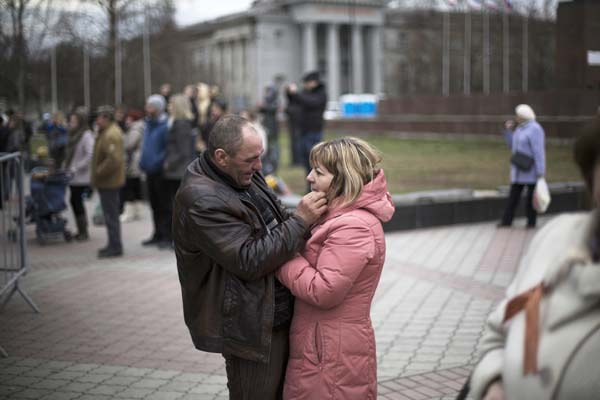 A Ukrainian couple share a tender moment during a rally in Lenin Square, Simferopol, Crimea, Ukraine, on Saturday. Manu Brabo / Associated Press
A senior Russian official appealed to the West on Sunday to help prevent "neo-fascists" coming to power in Ukraine after a far-right leader said he planned to run for president.
Dmytro Yarosh, leader of the Right Sector paramilitary movement, which played a big role in three months of protests that toppled Ukraine's Moscow-backed president, announced his candidacy for the May 25 election on Saturday.
"The de-facto authorities in Kiev and their Western backers should close the road to power of the neo-fascist Yarosh and his supporters," Konstantin Dolgov, the Russian Foreign Ministry's human rights commissioner, said on Twitter.
Moscow has charged Yarosh with inciting terrorism for allegedly suggesting a Chechen warlord should attack Russia after Russian forces took control of Ukraine's Crimea region.
Political analysts in Ukraine say Yarosh is a rank outsider in the election because of his ultra-nationalist views.
Russian President Vladimir Putin has said that Ukraine's new leaders seized power in an unconstitutional armed coup and that Russia has the right to protect Russians living in the former Soviet republic.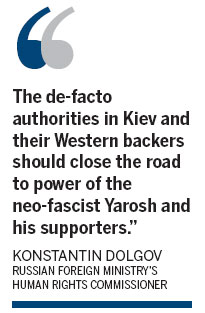 Actions in support of Ukraine and Russians living in Ukraine will be held in big cities throughout Russia over the weekend, ITAR-TASS News Agency reported.
Residents of the Russian cities of Astrakhan and Pskov will assemble in Lenin Squares for rallies on Sunday. A march in support of Ukraine will be held in the city of Maikop, the capital of the Russian Republic of Adygeya.
Thousands in Ukraine, meanwhile, took to the streets for rival pro- and anti-Kremlin rallies on Sunday as the West and Moscow dug in their heels over a deepening crisis in Crimea.
The protests came after a new marathon round of phone calls by US President Barack Obama seeking to defuse the Cold War-style standoff in the ex-Soviet state.
Tensions in Ukraine's Black Sea peninsula of Crimea have resulted in a new face-off between Russia and the West, with each side imposing sanctions or warning of further prohibitive measures to force the other to back down.
Foreign observers have failed to get into Crimea, a majority Russian-speaking region of Ukraine, to get a first-hand look at the situation on the ground and were forced to turn back on Saturday after gunmen fired warning shots.
Moscow also blames the protesters for clashes in which Ukraine's Health Ministry says about 100 people were killed.
"The violence of the ultra-nationalists who have been enjoying impunity has completely discredited Maidan (the protest movement)," Dolgov said. "Militants guilty of murder should be brought to justice."
Reuters-AFP