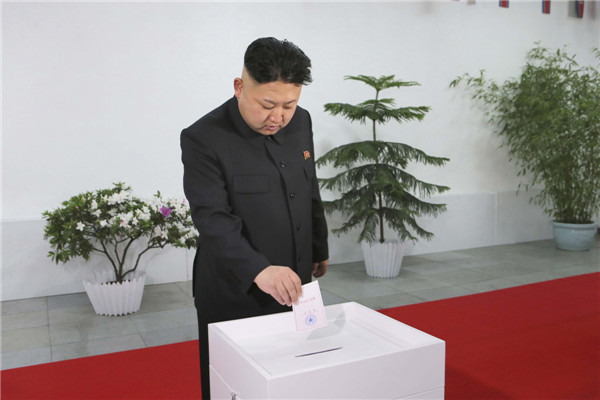 The Democratic People's Republic of Korea's leader Kim Jong-un visits the Kim Il-sung University of Politics to take part in the election of a deputy to the Supreme People's Assembly at sub-constituency No 43 of Constituency No 105 together with service personnel of the KPA on March 9, 2014 in this photo released by the DPRK's Korean Central News Agency (KCNA) in Pyongyang. [Photo/Agencies]
PYONGYANG - Parliamentary elections started Sunday morning throughout the Democratic People's Republic of Korea (DPRK) to choose members of the top legislature in the country.
Eligible voters went to poll stations in different electoral districts to cast their votes for members of the 12th Supreme People's Assembly (SPA), who will serve a five-year term in accordance with the DPRK constitution.
The voting began at 9 am (0000 GMT) and was expected to last nine hours. Wearing traditional dresses or suits, people gathered at electoral districts in Pyongyang, dancing and singing in festive mood.
DPRK's top leader Kim Jong-un had registered at Constituency No 111 as a candidate in the election. It is the first election for the SPA under the leadership of Kim Jong Un, who took power in December 2011 following the death of his father Kim Jong-il.
The current deputies of the SPA, the highest organ of state power, were elected in March 2009.