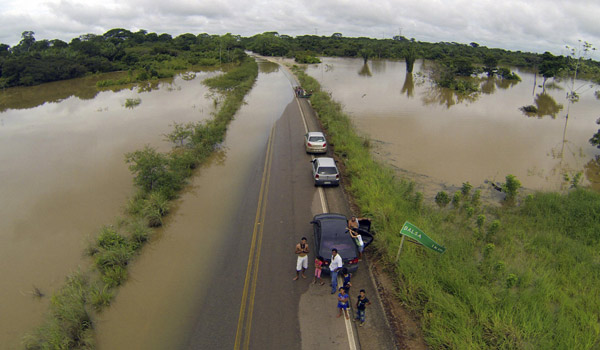 Travelers stand on the side of federal highway BR 364 as floodwaters from the Madeira River impede them from continuing, near Abuna, in Rondonia state on the border with Bolivia, in this Feb 22, 2014 file photo. Floodwaters from near record rainfall have flooded large parts of northwestern Brazil and northern Bolivia, according to government sources in both countries. [Photo/Agencies]
RIO DE JANEIRO - Floods have displaced more than 2,000 families in northern Brazil's Rondonia state, local media reported Thursday.
Floods engulfed several small communities along the Madeira River, with water levels 18.87 meters higher than normal.
All residents have been forced to leave their homes, and some areas in the state's capital Porto Velho have also been inundated.
The Rondonia government declared a state of public calamity last week.
The floods also caused damage in the neighboring states of Acre and Amazonas. In Amazonas, six towns located near the state border declared a state of emergency.
Acre has been isolated with its only land link to the rest of the country -- the BR-364 highway -- cut by flood waters. As a result, Some regions of the state are already facing fuel supply problems.