Turkish Prime Minister Recep Tayyip Erdogan called on Muslim cleric Fethullah Gulen, a onetime ally who has become a bitter foe, to stop meddling in national politics.
"I was naive. I used my best endeavors to support him," Erdogan told party loyalists on Sunday at an election rally, referring to Gulen, who lives in exile in the United States.
Erdogan has blamed Gulen and his supporters in Turkey with launching a major corruption probe targeting key members of his inner circle that has shaken his government to the core ahead of key elections on March 30.
At the rally in the southwestern city of Isparta, Erdogan accused Gulen of interfering in Turkish politics and urged him to return to the country.
"Two years ago I asked him to return to Turkey. He did not. I ask him again. If you're honest and sincere, stop stirring up this country," he said.
The Gulen movement was a key backer of Erdogan's Islamic-rooted Justice and Development Party when it first came to power in 2002.
The two came together to tame the influence of Turkey's once-powerful military, which staged three coups since 1960 as the self-declared guardians of the secular state.
But the alliance shattered after December police raids in which dozens of Erdogan's main business and political allies were detained on allegations of bribery in construction projects, gold smuggling and illicit trade with Iran. Erdogan, who has dominated politics for 11 years, has repeatedly accused so-called Gulenists in the police and judiciary of being behind the graft probe and retaliated by sacking hundreds of police and prosecutors.
In the latest episode in the escalating feud, the Turkish Parliament passed a bill on Friday to close thousands of private schools, many of which are run by the Gulen movement.
The legislation set Sept 1, 2015, as the deadline to shut the schools, which were one of the sources of the friction between the Gulen movement and the AKP. "They are going to lose $1 billion annual income. That's why they are going mad," Erdogan said.
Mustafa Koc, chairman of Turkey's biggest company, Koc Holding, called on Sunday on the government to calm financial markets worried about a corruption inquiry and denied he has sought to undermine Erdogan.
In a rare interview, Koc also told the Hurriyet newspaper that he met in May with Gulen but they did not discuss "political designs".
Since a Dec 17 police operation, Erdogan has been battling a series of allegations that he and members of his family and senior government officials took bribes and engaged in other improprieties.
"There is this perception out there, and to act like there is nothing or to call all of it complete lies does not seem right to me," Koc said. "Markets have been tense since Dec 17 (and) would immediately respond positively to a reduction in this tension. Trust needs to be rebuilt at once."
AFP-Reuters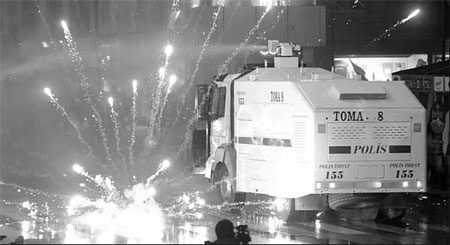 Fireworks thrown by protesters explode near a police water cannon dispersing a rally against Turkey's Prime Minister Recep Tayyip Erdogan in Ankara on Saturday. Umit Bektas / Reuters