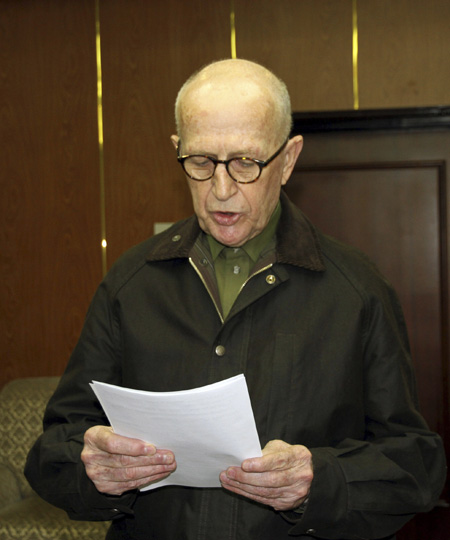 Australian missionary John Short holds his written apology, in this photo released by North Korea's Korean Central News Agency (KCNA) in Pyongyang on March 3, 2014. [Photo/Agencies]
PYONGYANG - The Democratic People's Republic of Korea (DPRK) expelled an Australian missionary accused of repeatedly committing "anti-DPRK" religious acts, the country's official news agency KCNA reported on Monday.
Australian consular officials are arranging John Short's return to his Hong Kong home after his release.
P John Alexander Short, who was arrested on Feb. 18 for his "hostile acts" by spreading Bible tracts, admitted his crimes and pleaded for mercy, said the KCNA.
Short apologized for his acts which violated the country's law and hurt the Korean people's trust in their leader. He also admitted having brought thousands of pamphlets in Korean language dating back to 2012.
Short is an ex-convict who committed similar crimes by preaching his religion in other countries, according to his apology statement released by the KCNA.
Since Short, reportedly 75 years old, is advanced in age and has admitted his guilt, the DPRK decided to expel him out of the country, said the KCNA.
The DPRK has a number of state-controlled churches, but Pyongyang does not tolerate independent religious activities.
Last week, Kim Jung Wook, 50, a South Korean missionary arrested for allegedly trying to establish underground Christian churches across the DPRK, apologized "for his anti-state crimes" here at a press conference, and asked for mercy from the DPRK authorities.
Kenneth Bae, a Korean-American missionary arrested on Nov. 3, 2012, has become the one in detention for the longest time in the country. Bae, sentenced to 15 years of compulsory labor for "state subversion," had admitted his crimes and asked for early release at a press conference in January.
In December 2013, the DPRK deported an 85-year-old US Korean War veteran, Merrill Edward Newman, two months after he had been detained for "hostile acts against the country under the guise of a tourist."