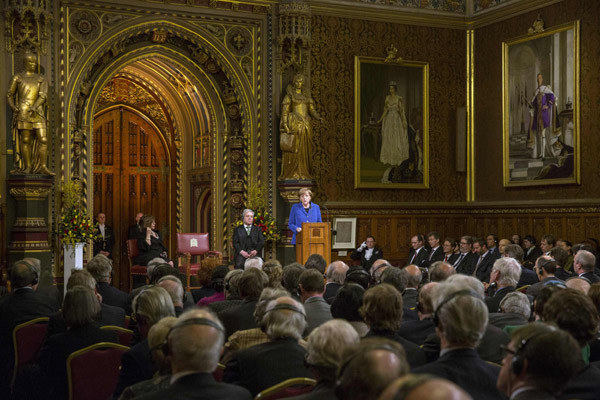 German Chancellor Angela Merkel address members of both Houses of Parliament in the Royal Gallery of the Palace of Westminster in London, Feb 27, 2014. [Photo/Agencies]
"QUEEN OF EUROPE"?
Switching between her native German and English, Merkel delivered her speech in one of the British parliament's most ornate rooms with Cameron and the rest of the country's political elite sat in the front row hanging on her every word.
Hers was a delicate balancing act: To be seen to be giving Cameron, a centre-right ally, some support in his politically fraught quest to claw back powers from Brussels, while making it clear that her backing went only so far.
Dressed in a trademark trouser suit with a blue jacket, Merkel praised Britain for its role in safeguarding freedom in World War Two, for its pivotal role in transatlantic relations, as an important German ally, and a vital member of the EU.
"We need a strong United Kingdom with a strong voice inside the European Union. If we have that we will be able to make the necessary changes for the benefit of all," she said.
She indicated she supported Cameron's bid to clamp down on abuse of the EU's freedom of movement rules when it came to welfare benefits and partially backed his drive to rein in the European Commission. She said Britain would have a chance - along with everyone else - to submit proposals for reform once deeper integration of the euro zone had happened.
"It is not a piece of cake, it will be a lot of work," Merkel said. "If we want Britain to remain in the European Union, which is what I want, if one also wants a competitive union that generates growth, one can find common solutions."
Proposals would then be judged on whether they bolstered the euro's "economic strength," she said.
In comments that will please Cameron, who later called her speech "excellent", she said she thought that EU red tape should be cut, that unnecessary EU laws should be junked, and that the EU principle that member states do things at national level where that makes more sense should be respected.
A joint news conference after her speech was awkward, however. Merkel ignored a reporter's question asking her if she regarded Cameron as her "naughty nephew", appeared unimpressed with another asking her if she was "the Queen of Europe", and a joke by Cameron about the European Parliament fell flat.
Merkel's visit is seen as a test of how far Cameron is likely to get in persuading the rest of the EU to sign up to his reform ideas, since Germany is the bloc's most powerful state and its biggest economy.