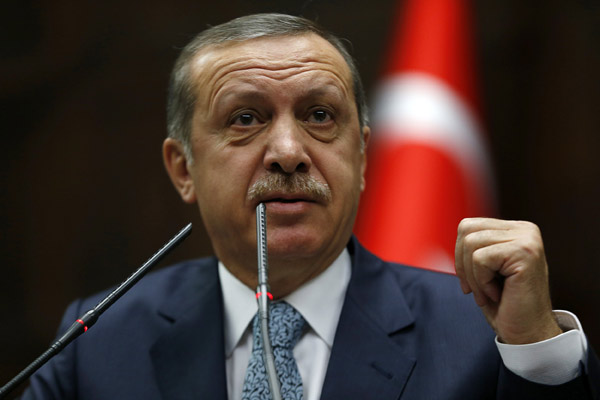 Turkey's Prime Minister Tayyip Erdogan addresses members of parliament from his ruling AK Party (AKP) during a meeting at the Turkish parliament in Ankara February 25, 2014. [Photo/Agencies]
ANKARA - Turkey's Prime Minister Recep Tayyip Erdogan on Tuesday slammed the wiretappers who recorded Erdogan allegedly telling his son how to hide large sums of money, saying these tapes were fabricated technically.
The prime minister accused the wiretappers of establishing a "parallel state" in the country and damaging the democracy.
Speaking at the opening ceremony of a new road in capital Ankara, Erdogan criticized the alleged wiretapping of thousands of peoples' phone calls, including high-profile figures, saying it threatened democracy.
His statements come as Istanbul Chief Public Prosecutor Hadi Salihoglu announced Tuesday that at least 2,280 people have been wiretapped both indirectly and directly in Turkey since 2011.
Late Monday, Turks were shocked by the release of audio recordings that revealed an alleged conversation between Erdogan and his son Bilal, in which the prime minister ordered his son to dispose of vast amounts of cash just after a graft probe launched on December 17, 2013.
The probe for corruption has implicated the sons of three Turkish ministers, businessmen and chief of the state bank.
The prime minister denied the authenticity of the recording, saying that these tapes were fabricated technically and were " immoral product of montage and completely false."
During his speech, hundreds of students gathered near the scene to denounce him. In response, riot police hurled tear gas, sprayed water cannons and fired rubber bullets to disperse the students.