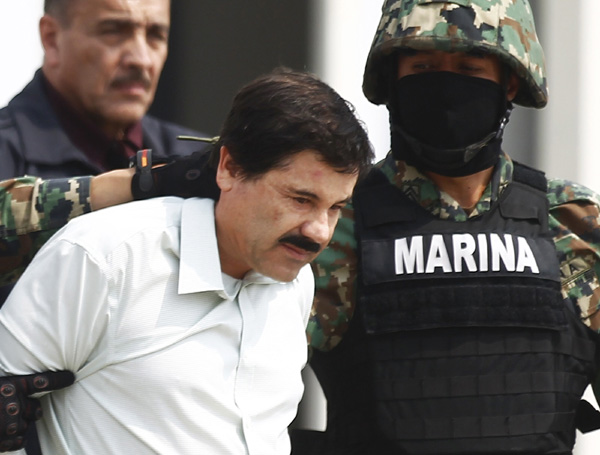 Joaquin "Shorty" Guzman (C) is escorted by soldiers during a presentation at the Navy's airstrip in Mexico City February 22, 2014. Mexico has captured its most wanted man, drug kingpin Joaquin "Shorty" Guzman, President Enrique Pena Nieto said via Twitter on Saturday, in a major victory in a long, grisly fight against drug gangs. Guzman, known as "El Chapo" (Shorty) in Spanish, runs Mexico's infamous Sinaloa Cartel and over the past decade emerged as one of the world's most powerful organized crime bosses. [Photo/Agencies]
WASHINGTON — After 13 years on the run, narrow escapes from the military, law enforcement and rivals, drug lord Joaquin "El Chapo" Guzman is back in Mexican custody. Now starts what is likely to be a lengthy and complicated legal process to decide which country gets to try him first.
In Mexico, Guzman is likely to face a host of charges related to his role as the head of the Sinaloa Cartel, the country's most powerful drug trafficking organization and a key player in the years-long violence that has claimed tens of thousands of lives since 2006.
But grand juries in at least seven US federal district courts, including Chicago, San Diego, New York and Texas, already have handed up indictments for Guzman on a variety of charges, ranging from smuggling cocaine and heroin into the United States to participating in an ongoing criminal enterprise involving murder and racketeering.
Federal officials in Chicago were among the first to say they wanted Guzman tried in their jurisdiction. On Sunday, Assistant US Attorney Steven Tiscione in Brooklyn, New York, became the second.
In an email Sunday Tiscione said, "Yes, we will be seeking his extradition," adding it would be up to Washington to make the final call on whether Guzman is extradited to the U.S. and, if so, where he is prosecuted.
A U.S. Justice Department official speaking on condition of anonymity because it's a matter of sensitive diplomatic discussions said that decisions regarding extradition have not been made. The official said that decisions regarding extradition will be made in consultation with Mexico.
Mexico convicted the man whose nickname translates to "Shorty" on drug trafficking and murder charges in 1993. Guzman had served less than half of his 20-year prison sentence when he escaped in 2001. The Mexican government is almost certain to levy a host of new charges related not only to the break out but also to his role in running the global drug-empire that the Sinaloa Cartel has become.
Calls for his extradition to the United States started just hours after word spread of Guzman's arrest Saturday morning at a condominium in Mazatlan, a beach resort town on Mexico's Pacific Coast.
Jack Riley, head of the Drug Enforcement Administration's Chicago office, told the Chicago Sun-Times newspaper Saturday that he believes federal prosecutors there have the best case against Guzman in the United States.
"I fully intend for us to have him tried here," Riley said.
George Grayson, a professor at the College of William and Mary who studies Mexico's cartels, said domestic politics in Mexico are likely to play a significant role in how the Mexican government decides Guzman's legal future.
"It's going to be a completely political decision," Grayson said. "It's going to be framed by how does this help ... in next year's congressional elections."
Mexico's president, Enrique Pena Nieto, has taken a starkly different approach to fighting the violent drug cartels than his predecessor, Felipe Calderon.