TOKYO - Japanese Prime Minister Shinzo Abe on Thursday instructed President of NHK Katsuto Momii to take more responsibility in his role as the national broadcaster's head, following his benighted remarks on Japan's wartime history that have seriously undermined the integrity of the institution.
Abe reprimanded Momii at a lower house budget committee meeting and demanded his increased cognizance of the broadcasting law, enacted in 1950 with the aim of ensuring that NHK operates as a non-partisan entity, with a politically neutral stance.
Abe said that Momii, who sparked global outrage and condemnation for comments he made about Japan's forcible conscription and use of "comfort women" - a euphemism for sex slaves -  during World War II, which flagrantly glossed over Japan's brutal past militarism, must disassociate his personal feelings from his professional responsibilities.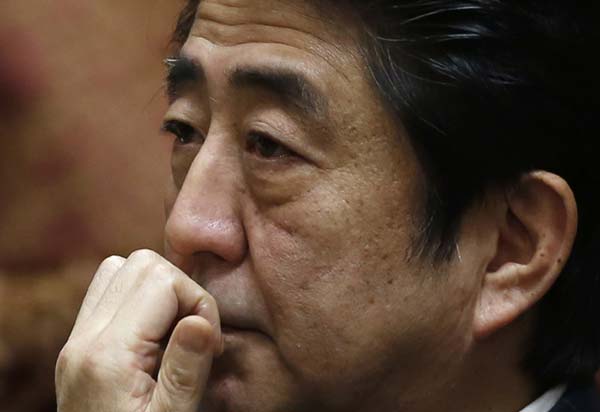 Japan's Prime Minister Shinzo Abe attends a lower house budget committee session at the parliament in Tokyo, Feb 20, 2014. [Photo/Agencies]
Momii stated during his inaugural news conference that "comfort women" existed in any country at war, not just Japan, but also France and Germany, and blasted South Korea for continuing to call for compensation for these women, claiming the matter had already been concluded with the signing of a peace treaty.
The head of Japan's national broadcaster continued to politicize and undermine his appointment, much to the exasperation of the global community, by stating that for him it was "puzzling" why there remains so much international condemnation of Japan's involvement in war-time sexual slavery.
While Momii subsequently retracted his comments in an official capacity, he admitted they were his true sentiments, further dumfounding media and political insiders, political observers and international institutions, who have since openly begun questioning NHK's right-leaning direction and potential inability to fulfill its public function within the law.
The publicly funded broadcaster has, of late, seen three of its board members, all hand-picked by the government for their positions, erode domestic and international faith in the institution's former impartial programming and politically neutral foundations.
NHK board member Naoki Hyakuta, also hand-picked by Abe, recently dumbfounded the global media community, politicians and the public alike, by unabashedly stating that the Nanjing Massacre "never happened."
Hyakuta made the reprehensible comments in a stump speech in Tokyo while he was supporting a right-wing candidate in the gubernatorial elections in Japan's capital this month.
The former novelist also described the US air raids on Tokyo during World War II as "genocide."
Further undermining NHK's reputation and credibility, Michiko Hasegawa, another NHK board member, heaped praise on Shusuke Nomura, who was an ultra-rightwing nationalist who committed ritual suicide in the offices of the Asahi Shimbun newspaper in 1993.