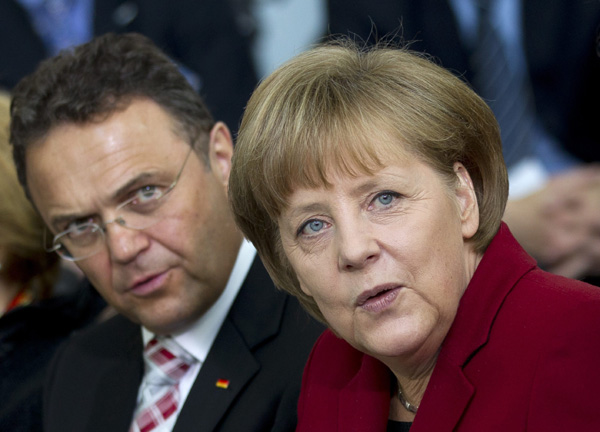 German Chancellor Angela Merkel (R) and then Interior Minister Hans-Peter Friedrich attend a demography conference at the Chancellery in Berlin in this April 24, 2012 file photo. [Photo/Agencies]
BERLIN - A senior minister in German Chancellor Angela Merkel's cabinet offered to resign on Friday for having warned the Social Democratic party about an inquiry against an SPD lawmaker for possessing child pornography, something the MP has denied.
The turmoil over the possible leaking of confidential information from prosecutors to legislator Sebastian Edathy has been front-page news and could destabilize the two-month-old coalition government in Europe's biggest economy.
Agriculture Minister Hans-Peter Friedrich, a member of Merkel's party who was interior minister at the time of the incident in October, informed SPD chairman Sigmar Gabriel that prosecutors were investigating Edathy.
Edathy resigned from parliament last week, citing health reasons. On his Facebook page the 44-year-old politician has denied having any child pornography in his possession.
Friedrich said he believed he acted in accordance with the law by notifying the centre-left SPD, which was in coalition talks with conservative Merkel at the time. But if prosecutors take a different view, he said he would be ready to step down.
"I acted to the best of my knowledge when I informed SPD chairman Sigmar Gabriel. I was convinced that I acted correctly both politically and legally," Friedrich said in a statement read out by his spokesman, Jens Teschke.
"If the prosecutor has a different view and starts an investigation into me, I'll step down."
The prosecutor in Hanover complained at a separate news conference that information about the investigation into Edathy had been leaked in Merkel's government as well as in the SPD. The interior minister is usually informed about investigations.
"We are stunned," said Hanover prosecutor Joerg Froehlich, confirming for the first time that Edathy was being investigated on suspicion of possessing child pornography. His apartment was raided this week.
Froehlich added that Edathy appeared to have been given advance warning of the investigation, complicating it. German media said relevant information on Edathy's computers had been destroyed. "We're hopelessly behind," said the prosecutor.
Public prosecutors in Berlin were examining whether to start an investigation into Friedrich for possible breach of confidentiality relating to the investigation into Edathy.