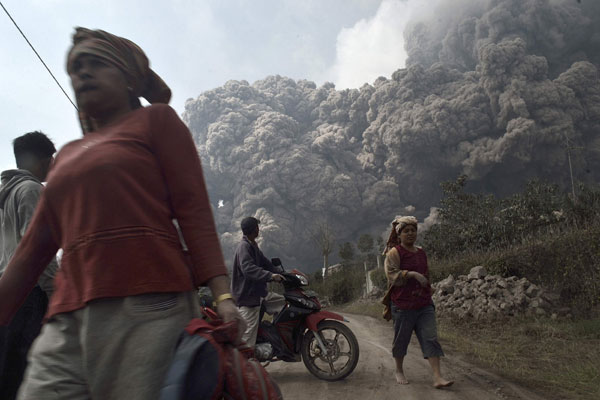 Villagers run as Mount Sinabung erupts at Sigarang-Garang village in Karo district, Indonesia's North Sumatra province February 1, 2014.
  [Photo/Agencies]
JAKARTA - A total of 14 people were killed and three others injured in the fresh eruption of Mount Sinabung volcano on Saturday, officials said.
More victims are feared, officials added.
Mount Sinabung erupted again on Saturday morning, sending hot rocks and ash up to 2,000 meters into the air, Sutopo Purwo Nugroho, spokesman of the national disaster agency, told Xinhua by phone.
Hikmat Surbakti, a press officer at the media office of the Mount Sinabung evacuation center, told Xinhua as many as 14 corpses had been recovered, including 12 males and 2 females.
The Saturday's eruption came after nearly 14,000 out more than 30,000 evacuees returned home.
The 2,475-meter high Mount Sinabung has rumbled to life since September last year after remaining quiet for almost 400 years.
Mount Sinabung is among the 129 active volcanoes in the vast archipelago country, which is prone to seismic upheaval as it sits on the so-called Pacific Ring of Fire encircling the Pacific Ocean.