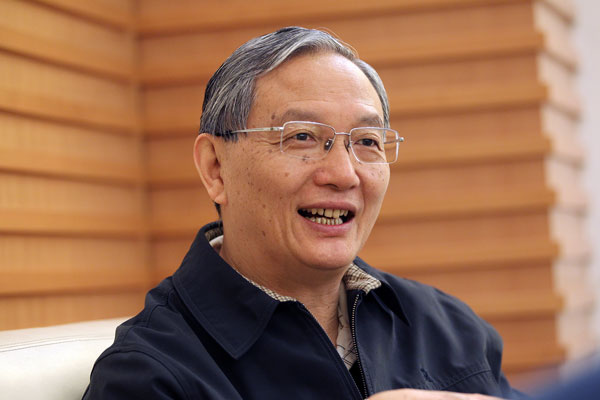 Zhong Jianhua, China's special representative for African affairs.
China is to intensify mediation efforts aimed at finding a peaceful solution to the crisis in strife-torn South Sudan.
Zhong Jianhua, China's special representative for African affairs, said a quick solution is essential to end the conflict, and China is acting as a communications bridge among all parties involved.
He has just returned from an African trip, which took him to South Sudan and neighboring countries including Kenya, Sudan and Uganda, as well as the headquarters of the African Union in Ethiopia.
The international community wants to see an end to conflict between the South Sudanese government, led by President Salva Kiir, and opposition forces loyal to former vice-president Riek Machar.
"During my discussions with the two sides involved in South Sudan, I told them that their country, the youngest in the world, and its people cannot bear conflict any more," said Zhong, who has visited Sudan 10 times and South Sudan eight times in the past two years.
South Sudan, which became independent in 2011, has been engulfed in severe fighting for more than a month.
The crisis began after Kiir sacked Machar in July. Machar and his supporters are demanding the release of 11 of their political allies who were jailed after being accused of attempting a coup.
"The main protagonists belong to different tribes, and are under enormous pressure not to concede any ground. No one wants to be the loser in this issue," Zhong said, explaining the deadlock.
The United States, the European Union, the African Union and the Intergovernmental Authority on Development, a trading bloc in East Africa, have been at the forefront of efforts to end the conflict.
Zhong said China is playing a unique role by facilitating communications among all parties.
He said Beijing can play this role well because African nations such as South Sudan trust China, as it has never invaded African countries or hurt the self-esteem of African people.
Zhong added that African nations and Western powers have spoken highly of China's role.
"We have listened to all the parties involved and asked them what they expect us to do," he said.
"Our involvement in the issue has increased the role of mediation, which we feel is the best way to solve the problem before it spreads further," Zhong said.
China respects the sovereignty of South Sudan and the ability of African people and will let South Sudan, the African Union and the Intergovernmental Authority on Development take the lead in resolving the issue, he said.
China has vowed to deepen cooperation with Africa on security issues.
Then-president Hu Jintao said at the Fifth Ministerial Conference of the Forum on China-Africa Cooperation in 2012 that helping create a secure environment for Africa's development is one of the five priorities to boost the Sino-African relationship.
The fighting in South Sudan has affected oil production, which accounts for at least 97 percent of government revenue.
China is a major investor in South Sudan's oilfields, and Zhong urged the two sides in the conflict to protect Chinese workers.
The fighting has been ringing alarm bells globally that it could turn into a full-blown civil war, spawning atrocities or making South Sudan the world's next failed state.
The United Nations has said that more than 1,000 people have died in the conflict.
Zhong said the conflict is complicated but typical of Africa, where the borders of many countries were randomly set by former Western colonial powers.
Borders may split one tribe or ethnic group between two countries or include two or more different tribes and ethnic groups with different cultures and religions in one country, adding to the complexity of African issues, he said.
Li Xiaokun contributed to this story.