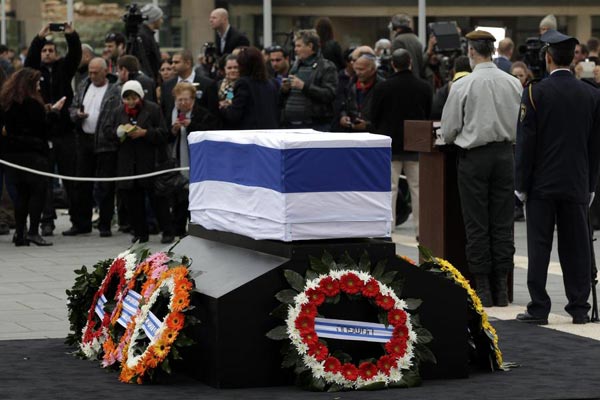 Israelis pay their last respects as they walk past the flag draped coffin of former Israeli prime minister Ariel Sharon lying in state at the Knesset, Israel's parliament, in Jerusalem January 12, 2014. [Photo/Agencies] 
JERUSALEM - Thousands of Israelis lined up on Sunday outside the Israeli Knesset (parliament) building to pay their last respects to Ariel Sharon, Israel's iconic, controversial prime minister and general who died over the weekend.
Sharon's coffin was placed in the Knesset entrance's square with a guard stationed beside him and flags at half-mast as a symbol of mourning. On Monday, a state memorial service is scheduled to be held in the Knesset and to be attended by international leaders, including US Vice President Joe Biden and Quartet representative and former British Prime Minister Tony Blair.
"Today, we have no more great leaders of this scale," said Shlomo Shapira, 68 year-old, who traveled from the city of Ramat Gan in central Israel to pay his tribute to "the last member of a generation of giant leaders."
Avi Eylon was one of the many who served under Sharon in the October War in 1973 and came out to express his sorrow. "My heart weeps," he said.
Sharon, who died at the age of 85, was one of the most influential and controversial figures in Israeli politics. As Israel's defense minister during the Lebanon War in 1982, many Palestinian and human rights organizations hold him accountable for the massacre in the refugee camps of Sabra and Shatila, in which hundreds of Palestinians were killed by Lebanese militias. Later in life, he became a politician and became involved in the official peace process.
The first visitor to pass by his coffin was Israeli President Shimon Peres. "Arik (Sharon's nickname) was a brave soldier and a daring leader who loved his nation and his nation loved him," Peres eulogized his friend. "He was one of Israel's great protectors and most important architects, who knew no fear and certainly never feared vision. He knew how to take difficult decisions and implement them," Peres added.
Uria, resident of Jerusalem, came with his five-year old son." I believe you have to get your children to know to show respect for the generation that has founded the state and fought for it," Uria said. "I find a big meaning in this and an important lesson to the next generation," he added.
Uria defines himself as part of the Jewish settlement movement of Gush Emunim, a hawkish sector of the Israeli society who had admired Sharon as the "Godfather" of the Jewish settlements in the occupied Palestinian territory but later harshly condemned him when he led and orchestrated Israel's disengagement from the Gaza Strip in 2005.
"Though I know that many people have different opinion about him, I believe it just shows that he was a strong man who believed in his way," said Uria.
Related readings:
Apology letter showed goodwill toward China
Sharon's legacy full of contradictions
Related photos: