Following the suspension of local suppliers, GSK, J & J may win contracts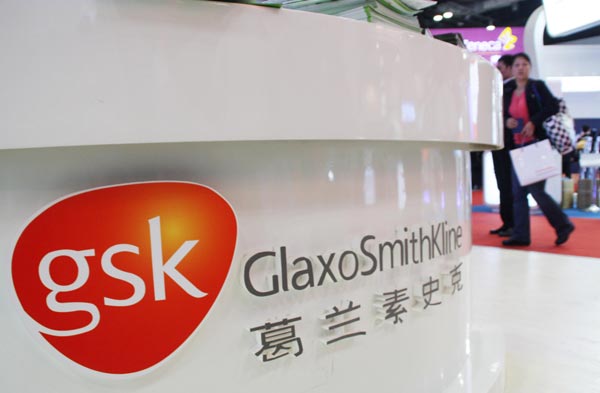 British pharmaceutical giant GlaxoSmithKline Plc and Berna Biotech, a division of Johnson & Johnson, are major players in China's hepatitis B vaccine market. Provided to China Daily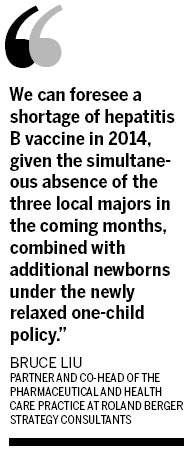 Despite Chinese health authorities' claim that there's no link between hepatitis B vaccinations and several babies' deaths, parents' confidence in domestic vaccinations has been shaken - and that's boosting the outlook for overseas drug companies.
Many people "are willing to pay more for the higher quality and safety of imported vaccines", said Guo Wei, an analyst with Ipsos, a global market-research company.
Chinese parents have long opted for domestic vaccines, as the cost of immunizations is mostly covered by the government through the National Immunization Program. But many are now deciding to pay directly for expensive imported vaccines.
Chen Chen, a 27-year-old mother in Hunan province, said that she'll seek more information about overseas vaccine producers and then make a "prudent" decision for her 6-month-old son.
"Overseas vaccine makers are barred from the Class I market, which is supported by the government through the NIP," said Guo.
Some overseas makers, such as Switzerland-based pharmaceutical company Novartis AG, have moved into the market through mergers and acquisitions. But they're limited in terms of local manufacturing.
Low market share
But in the non-NIP Class II market, overseas producers see a potential market. And they can cooperate with the government to serve more consumers who are willing to pay higher fees.
British pharmaceutical giant GlaxoSmithKline Plc and Berna Biotech, a division of Johnson & Johnson, are major players in China's hepatitis B vaccine market.
"But they only participate in the non-NIP Class II market, which costs more and is paid out-of-pocket. Their market shares are estimated to be in the single digits," said Bruce Liu, partner and co-head of the pharmaceutical and health care practice at Roland Berger Strategy Consultants.
The crisis of confidence in domestic vaccines is offering multinationals a rare chance to play an important role both in the Class II market and conceivably in the NIP, such as working with governments, non-governmental organizations and charitable foundations, Liu pointed out.
Liu suggested that MNCs can also consider licensing out new vaccine technology to reputable local partners in exchange for revenue sharing, market access and goodwill.
GSK, which reported a slide in its China pharmaceuticals and vaccines business after the company became embroiled in a series of bribery scandals, may see a rebound.
Ma Yuan, corporate communications manager at GSK China, said it is too early to predict any trend. "But GSK has licensed more vaccines in China than any other global manufacturer," she said.
GSK will continue to invest in the manufacturing, development and commercialization of high-quality, innovative vaccines, the company said.
Hepatitis B vaccines sold in China are mainly produced by seven companies, including GSK. Only two have passed China's new good-manufacturing practice certification, and these two companies have less than 10 percent of the market.