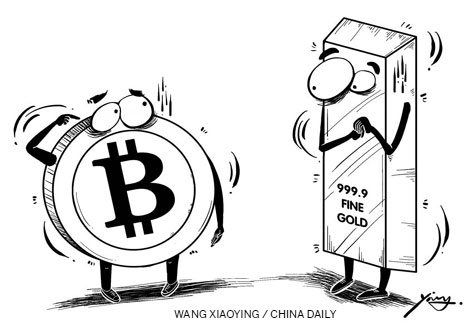 Virtual currencies have attracted the attention of both the media and policymakers around the world recently. Although virtual currencies aren't especially new, the attention paid to them has been. Virtual currencies are those used in electronic, generally Web-based transactions. They are not issued by governments, which many view as positive at a time when confidence in governments is low.
Attention has focused on bitcoins, the supply of which is determined by an algorithm. Demand for the virtual currency grew with the media attention and the exchange value of a bitcoin reached a peak of more than $1,200, although the value has subsequently dropped nearly 30 percent as speculation in the virtual currency has decreased since policymakers have started paying more attention to it.
China recently banned financial institutions from trading bitcoins, and Norway has declared bitcoins to be an asset not a currency, which has important implications. Former US Federal Reserve chairman Alan Greenspan described bitcoins as a "bubble", which also suggests that virtual currencies should be regarded as assets, because assets have bubbles, currencies become overvalued.
Bitcoins are not the only virtual currency; others have existed for some time. Computer games often have their own currency, with players earning units of the currency or tools or characters through their skill at playing the game. In some cases, a virtual currency can be purchased using real-world money, which enables the calculation of a virtual to real-world exchange rate. This trade has been going on for at least a decade, and several governments were quick to note that income earned from such transactions should be subject to tax.
So what are the key issues when it comes to a virtual currency? There are four questions to answer: