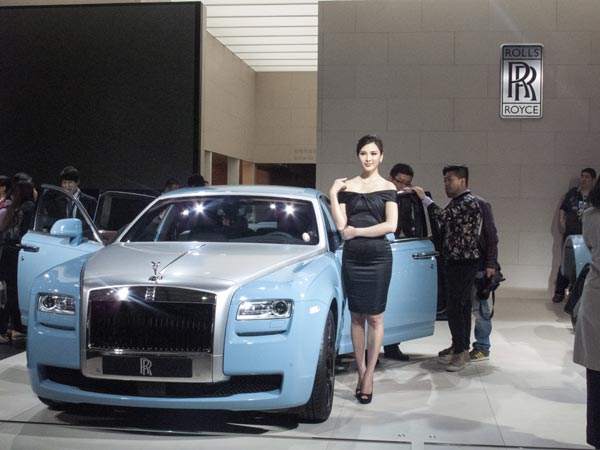 A new Rolls-Royce Ghost is displayed at a recent international auto exhibition in Shanghai. Strong year-on-year sales growth of 11 percent in 2013 gave China the lead over a distant-second United States. Provided to China Daily
Country places No 1 in sales last year for iconic vehicle brand
British ultra-luxury automotive company Rolls-Royce Motors Cars Ltd has made China its largest market in 2013, as sales grew robustly despite a slowdown in the world's fastest-growing economy, according to company executives.
Last year, "China contributed 28 percent of Rolls-Royce's global sales, making it the top market for us again," said Chief Executive Officer Torsten Mueller-Oetvoes in a telephone interview.
The iconic UK brand delivered 3,630 cars to customers in more than 40 countries in 2013, the fourth consecutive record year and biggest in its history.
Strong year-on-year growth of 11 percent gave China the lead over a distant-second United States, another pillar market for Rolls-Royce, for the second time in three years.
"China and the US remain the most significant individual markets for Rolls-Royce, and we are confident to see increases in the two markets in 2014," said Mueller-Oetvoes.
"Let's wait and see who the champion is this year."
He told China Daily that, in addition to having an excellent product, another factor in Rolls' success in China was "aggressive dealership expansion over the past year, which brought our brand closer to customers".
The UK marque added seven new dealerships in China last year, extending its coverage to 20 cities across the country. That accounted for nearly half of the 15 total new dealers worldwide.
Henrik Wilhelmsmeyer, director of Rolls-Royce Region China, said that "dealership expansion shows our strong focus on the service aspect for existing and new customers, and we hope to have another five new dealers in China, including Kunming and Guiyang in the southwestern part of the country, this year".
He also said that although the Chinese government issued a series of policies curbing luxury consumption in 2013, "there is no impact to our business, as Rolls-Royce is never a mass luxury brand".
According to Wilhelmsmeyer, mass luxury brands are more easily affected by policy changes and economic downturns. "Rolls-Royce is chosen by highly successful people, a group we see as an increasing trend in China."
For the coming year, Mueller-Oetvoes said he remained confident about China's economic situation "based on 2013's 7.5 percent growth. It will help Rolls-Royce generate sustainable growth in the future."
With a brand philosophy of always having one car less than market demand to ensure exclusivity, Mueller-Oetvoes declined to discuss a target for China this year, saying, "We never chase volume sales".
But he did tell China Daily that he is confident in the appeal of the upcoming Wraith model. Marketed in China since November, Wraith now "has a strong order book, and customers should wait for at least six months for delivery".
Wilhelmsmeyer added that the brand-new Wraith also helped attract customers who had never entered a Rolls-Royce showroom before.
"Though one interesting case is the man who came in to look at a Wraith and ended up buying a Ghost after paying a visit to one of our dealers."
The 2013 Forbes China Rich List revealed that the wealthy in China are getting richer, as the number of billionaires - those with a personal fortune of more than $1 billion - hit a record high of 168 last year, up from 113 in 2012 and only one in the country in 2003.
The total wealth of the top 400, with a threshold of 600 million yuan to enter the list, totaled 3.4 trillion yuan ($99 million), a 35 percent surge over 2012.