Israel's ex-PM Sharon dies at 85
Updated: 2014-01-12 08:36
By Josef Federman in Jerusalem (China Daily)
| | | | | | | | | |
| --- | --- | --- | --- | --- | --- | --- | --- | --- |
|   | | Print | | Mail | | Large Medium  Small | 分享按钮 | 0 |
Ariel Sharon, the hard-charging Israeli general and prime minister who was admired and hated for his battlefield exploits and ambitions to reshape the Middle East, died on Saturday, eight years after a stroke left him in a coma from which he never awoke. He was 85.
As one of Israel's most famous soldiers, Sharon was known for bold tactics and an occasional refusal to obey orders. As a politician, he became known as "the bulldozer", a man contemptuous of his critics while also capable of getting things done.
He led his country into a divisive war in Lebanon in 1982 and was branded as indirectly responsible for the massacre of hundreds of Palestinians at the Sabra and Chatilla refugee camps outside Beirut when his troops allowed allied Lebanese militias into the camps.
Sharon's son Gilad announced the death on Saturday afternoon. Sharon's health had taken a downturn over the past week and a half as a number of bodily organs, including his kidneys, stopped functioning, and doctors on Thursday pronounced his condition "grave".
"He has gone. He went when he decided to go," Gilad Sharon said outside the hospital where his father had been treated in recent years.
The life and career of the man Israelis called "Arik" will be remembered for its three distinct stages: his eventful and controversial time in uniform; his years as a vociferous political operator who helped create Israel's settlement movement and mastermind of the Lebanon invasion; then his term as a pragmatist prime minister, capped by a dramatic withdrawal from the Gaza Strip and curtailed at the height of his popularity by his sudden stroke.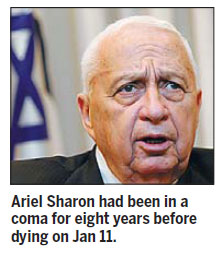 Ariel Sharon was born to Russian immigrant parents on Feb 26, 1928, in the small farming community of Kfar Malal, north of Tel Aviv. He joined the Haganah, the pre-state Jewish defense force, at 14 and later went on to command an infantry platoon during the 1948 war over Israel's creation. He was seriously wounded in battle with the Jordanian Legion over control of the road to Jerusalem.
By 1953, he was commanding Unit 101, a commando force formed to carry out reprisals for Arab attacks.
After the slaying of an Israeli woman and her two children, his troops blew up more than 40 houses in Qibya, a West Bank village then ruled by Jordan, killing 69 Arabs, most or all of them civilians.
Three years later, after Israel's invasion of the Sinai Peninsula, Sharon was rebuked for engaging in what his commanders regarded as an unnecessary battle with Egyptian forces in which some 30 Israeli soldiers died.
But accolades mounted as well. His finest hour in uniform, as he described it, came after Egypt and Syria attacked Israel in the 1973 war. Sharon was brought out of retirement by an army desperate for leadership and commanded 27,000 Israelis in a daring drive across the Suez Canal, an operation that turned the tide of the fighting. Sharon later became a cabinet minister in the hawkish government led by Menachem Begin. When Begin shifted to the center - much as Sharon would do decades later - and signed a peace agreement with Egypt that required an Israeli withdrawal from the Sinai, Sharon voted against it.
In March 2001, Sharon defeated then prime minister and Labor party chairman Ehud Barak in a snap election. During his tenure, Sharon established a coalition government with the left-wing Labor to push forward his own political blueprint.
Sharon, who lived on a ranch in southern Israel, was widowed twice. His second wife was the sister of his first, who died in a car accident.
He is survived by two sons. A third died as a child in a firearms accident in 1967.
Xinhua contributed to this story.
Associated Press
(China Daily 01/12/2014 page1)