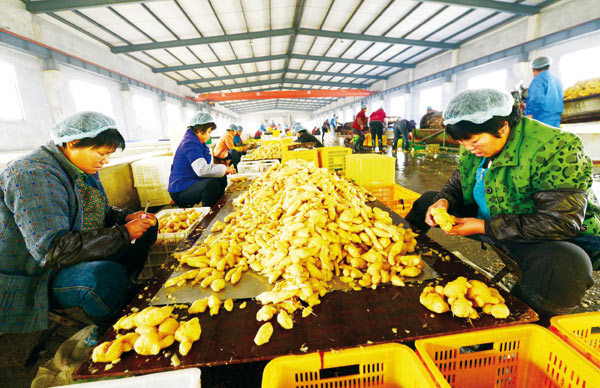 Workers grade fresh ginger at Laiwu Dunsunrise Foods Co Ltd. [Photo / China Daily]
Confucius enjoyed it daily. Now his home province is continuing to lead the world in producing the plant
The Romans paid premium prices for it when they imported it from China. Two thousand years later and the whole world has come to recognize the culinary and medicinal qualities of ginger, still mostly sourced from the land of the Han.
Central to ginger production in China is Laiwu, a city of about 1.3 million people in East China's Shandong province. It also does a big line in garlic.
More than 240 companies involved in the ginger business are based there. Every year, buyers from around the country and the globe flock to the city for the plant and other agricultural products.
China is the world's leading exporter of raw ginger. Last year it exported 448,000 tons of the spicy root plant, 30.8 percent of which was produced in Laiwu.
In 1997, the Chinese Ministry of Agriculture named Laiwu the City of Ginger. It seems it always was.
"Even The Analects of Confucius records that Confucius (551-479 BC) ate ginger every day," says Tao Wurui, the head of Laiwu's Agriculture Bureau. "Research material shows the ginger he ate was from the area around Laiwu."
The hometown of Confucius was near Qufu, also in Shandong province.
At present, the Laiwu area has around 10,000 hectares of land area dedicated to ginger production, involving 887 villages. Tao says the city's elevated environment, 994 meters above sea level, plays an important role in nurturing quality ginger.
"Laiwu has well-drained and sloping soils, rich in organic materials," he says. "The nutritional elements of the local ginger, such as the fiber content, oils, vitamin E and selenium, are much higher than in those of the ginger planted in other places.
"The high position also provides good conditions for storing fresh ginger. Cellars as deep as 7 meters can keep it for as long as four years without rotting."
The city has 29 large cellars run by various companies and about 10,000 small cellars, which together can store 800,000 tons of ginger.
But the surrounding farmland given over for ginger cultivation is not as static, and can change because of market fluctuations, says Xie Tianmu, deputy director of Laiwu Agriculture Bureau.
"The price for fresh ginger in 2011 dropped as low as 0.8 yuan (13 US cents) a kilogram and the area for ginger cultivation was halved to 5,300 hectares in 2012," Xie says.
These days, however, Laiwu and its producers are more concerned about quality than quantity. They are developing self-managed farmland through renting land from farmers. This enables companies to increase output using new technology and improved quality control.
"Quality is the top priority of our ginger industry, because we can't afford to destroy the brand we have built," says Zheng Jinqi, vice-mayor of Laiwu.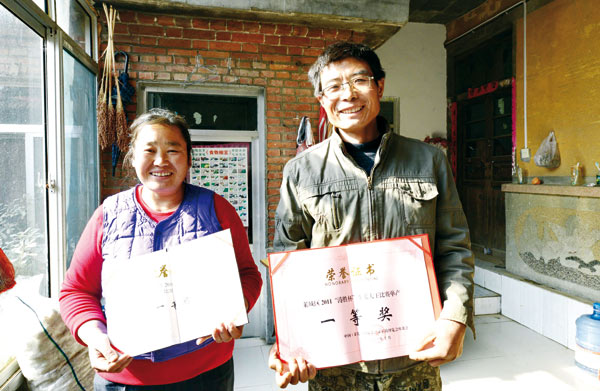 Gao Yubo (right) showcases his certification for the highest yield of ginger he gets. [Photo / China Daily]