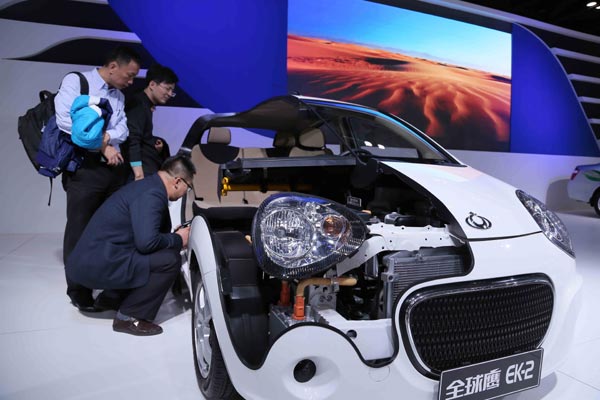 The EK-2 electric car, which was developed by the Zhejiang-based Geely Group, is shown at an auto show in Beijing. Sales of electric and hybrid vehicles are expected to reach 60,000 to 80,000 units this year in China. Chen Ming / For China Daily
Industry may experience explosive growth in two years, says observer
The domestic alternative-fuel vehicle industry has reached a turning point and is on track for rapid development in the next two or three years, said experts.
Ye Shengji, deputy secretary-general of the China Association of Automobile Manufacturers, forecast that sales of electric and hybrid electric vehicles in China will reach 60,000 to 80,000 units this year.
Ye made the remark at the 2013 Global New Energy Vehicle Conference, which began on Thursday in Haikou, capital of Hainan province.
Figures released by the CAAM on Thursday showed that while overall auto sales hit nearly 22 million units in 2013, only 17,642 were new-energy vehicles, including 14,604 electric cars and 3,038 plug-in hybrids.
A new round of subsidies announced by the central government in September are driving the expectations for rapid growth. One key component of the subsidy plan is that "outside" brands must account for at least 30 percent of the new-energy car sales in each pilot city.
The Chinese market for alternative-fuel vehicles has been highly fragmented because of strong local protectionism, which greatly hindered the development of the industry, said Pan Xiaofeng, managing director of GSR Ventures, a venture capital fund that invests primarily in early- and growth-stage technology companies with substantial operations in China.
"For investors, it's a tough time to make investment decisions, but it's also a good time to enter the market, as the industry may experience explosive growth in 2016 and 2017," said Pan.
Apart from electric buses and taxis, he said he anticipates an increase in low-speed, small electric cars (which are usually used for short-range driving) and plug-in hybrid electric vehicles.
In recent years, low-speed small electric cars have seen strong growth in China, with sales reaching 200,000 in 2013, according to Pang Yicheng, chief executive officer of website D1EV, which offers information and trading services for new-energy vehicles.
However, low-speed small electric cars are not recognized by the central government as new-energy vehicles because of safety and environmental concerns. Industry experts have varied opinions on the safety and pollution aspects of such vehicles, which are mostly powered by lead-acid batteries.
Production and sales of such cars have been rising - and their quality has been improving - in provinces such as Shandong, Jiangsu and Hebei, thanks to support from local authorities.
Fang Jianhua, general manager of Hefei Guaoxuan High-tech Power Energy Co Ltd, said there must be breakthroughs in urban public transportation, logistics vehicles and passenger cars.
"It is commonly believed that immature battery technologies, high prices and lack of charging facilities are major bottlenecks for the promotion of electric vehicles. But I think the real problem is the stakeholders' mindset and interests," said Fang.
He noted that many top executives of State-owned vehicle companies are under huge pressure to pursue growth and are attracted to the high profits generated by conventional vehicles. Therefore, they are reluctant to make huge investments in electric cars.
Pan pointed out that similar problems have occurred at the local government level.
"The biggest challenge to the progress of new-energy vehicles is whether local authorities decide to make changes and how much they will open the market to non-local companies," said Pan.