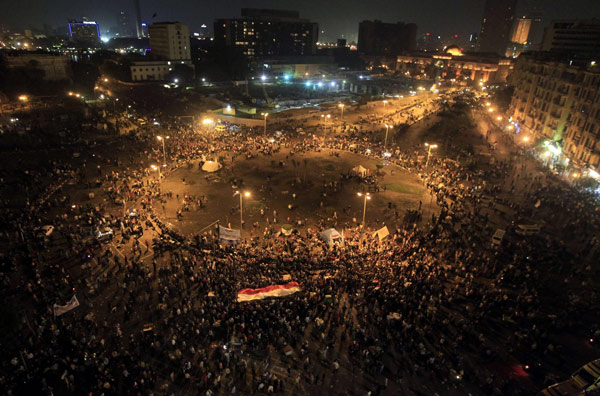 Protesters gather at Tahrir square in Cairo November 23, 2012. Egyptian President Mohamed Mursi's decree that put his decisions above legal challenge until a new parliament was elected caused fury amongst his opponents on Friday who accused him of being the new Hosni Mubarak and hijacking the revolution. [Photo/Agencies]
CAIRO - Egyptian President Mohamed Mursi's decision to assume sweeping powers caused fury amongst his opponents and prompted violent clashes in central Cairo and other cities on Friday.
Police fired tear gas near Cairo's Tahrir Square, heart of the 2011 uprising that toppled Hosni Mubarak, where thousands demanded Mursi quit and accused him of launching a "coup". Angry youth hurled rocks at security forces and burned a police truck.
There were also violent protests in Alexandria, Port Said and Suez.
Opponents accused Mursi, who on Thursday issued a decree that puts his decisions above legal challenge until a new parliament is elected, of being the new Mubarak and hijacking the revolution.
"The people want to bring down the regime," shouted protesters in Tahrir, echoing a chant used in the uprising that forced Mubarak to step down. "Get out, Mursi," they chanted, along with "Mubarak tell Mursi, jail comes after the throne."
The United States, the European Union and the United Nations expressed concern at Mursi's move.
Mursi's aides said the presidential decree was intended to speed up a protracted transition that has been hindered by legal obstacles but Mursi's rivals condemned him as an autocratic pharaoh who wanted to impose his Islamist vision on Egypt.
"I am for all Egyptians. I will not be biased against any son of Egypt," Mursi said on a stage outside the presidential palace, adding that he was working for social and economic stability and the rotation of power.
"Opposition in Egypt does not worry me, but it has to be real and strong," he said, seeking to placate his critics and telling Egyptians that he was committed to the revolution. "Go forward, always forward ... to a new Egypt."
Buoyed by accolades from around the world for mediating a truce between Hamas and Israel in the Gaza Strip, Mursi on Thursday ordered that an Islamist-dominated assembly writing the new constitution could not be dissolved by legal challenges.
"Mursi a 'temporary' dictator," was the headline in the independent daily Al-Masry Al-Youm.    
Mursi, an Islamist whose roots are in the Muslim Brotherhood, also gave himself wide powers that allowed him to sack the unpopular general prosecutor and opened the door for a retrial for Mubarak and his aides.
The president's decree aimed to end the logjam and push Egypt, the Arab world's most populous nation, more quickly along its democratic path, the presidential spokesman said.
"President Mursi said we must go out of the bottleneck without breaking the bottle," Yasser Ali told Reuters.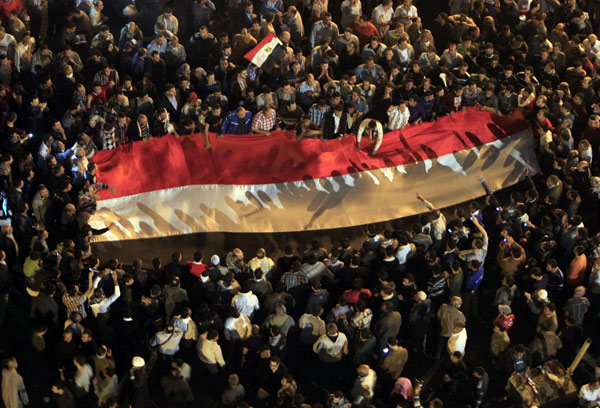 Protesters gather at Tahrir square in Cairo November 23, 2012.[Photo/Agencies]