CAIRO - A train crashed with a school bus in southern Egypt on Saturday morning, leaving more than 40 children killed. Shortly after the tragedy, Egyptian transportation minister resigned.
So far, there have been 50 people killed and 17 others injured, with the injured sent to Asyut University Hospital, according to the Health Ministry.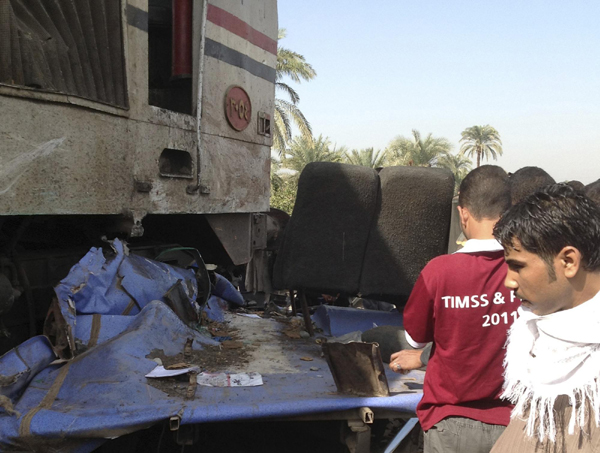 Relatives of victims look at the wreckage of a bus after a train (L), with bloodstains, crashed into it at Manflot in the southern city of Asyut, 500 km south of Cairo, Nov 17, 2012. [Photo/Agencies]
The armed forces dispatched a plane to Asyut to transfer the injured to the hospital.
The crash took place in Asyut governorate at around 8:00 am ( 0600 GMT). Yahya Kishk, Governor of Asyut, and several senior officials arrived at the scene immediately afterwards and called to form an investigation committee.
The governor offered condolences to the families of victims, pledging to provide compensation to the injured and the killed.
Meanwhile, President Mohamed Morsi asked Prime Minister Hesham Gandil to provide all necessary aid and treatment for those injured.
Paying his deep condolences to the victims' families, Morsi vowed to punish those responsible for the accident and wished the quick recovery of those injured.
After the accident, Mohamed Rashad el-Matini, Minister of Transportation, submitted his resignation to President Morsi. Morsi, Egypt's first civil-elected president, has accepted his resignation, state TV reported.
Official news agency MENA reported that the bus driver was blamed for the accident, citing that he drove into the barrier just as the train was approaching.
Earlier this month, two trains collided with each other in Faiyum governorate, 85 km south of the capital Cairo, leaving at least four Egyptians dead and 30 others injured.
The worst accident in Egypt's 150-year history of railway was caused by a fire in February 2002, leaving more than 300 people killed.